2001-2007 Ford Escape expert review
Updated: August 20, 2013
Ford Escape is a mid-size car-based comfortable and functional SUV. It was developed in association with Mazda; Mazda Tribute is based on the same platform. The Escape is available as a front- or four-wheel drive. Powertrain choices include a 4-cylinder or V6 engine and a 5-speed manual or 4-speed automatic transmission with overdrive. A hybrid version is available from 2005. Inside, the Escape is comfortable and roomy, but conservatively-styled and some materials are not of the top quality. Thanks to up-right styling, the visibility is very good. Controls are simple and easy to use. The rear seat offers plenty of space. If you need more cargo room, the rear seat folds down flat, although you need to remove the headrests. On the road, the Escape drives very comfortably, more like a car than a truck, however, engine and wind noise are noticeable, especially at highway speeds. The Escape's reliability has been spotty.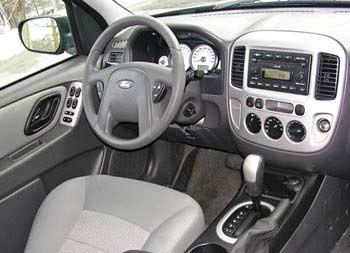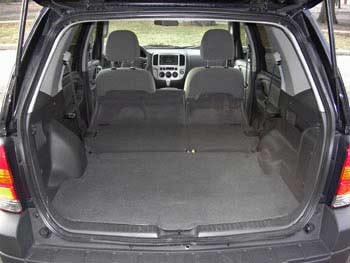 2006 Ford Escape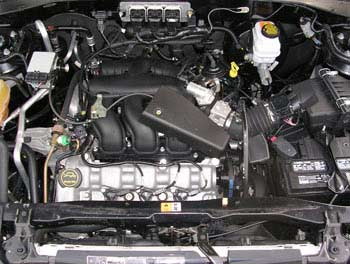 The 3.0-liter V6 Duratec 30 engine
Engine: The 4-cylinder 2.0-liter 16-valve DOHC 127-hp Ford Zetec was the base engine on early models. From 2005, it was replaced by the 153-hp 2.3-liter 4-cylinder engine. The optional 200-hp 3.0L DOHC V6 Duratec offers more power, but at the expense of fuel-economy. Either engine is fairly reliable if maintained properly. The 4-cylinder 2.0-liter engine has a timing belt that requires replacing at recommended intervals. Both the 2.3-liter 4-cylinder and the 3.0-liter V6 engines have a maintenance-free timing chain.

Fuel Economy: The FWD 2007 4-cylinder automatic Escape's EPA-estimated combined mileage is 21 mpg (20/24 mpg city/highway). It's in tune with other competitors. However if you opt for AWD, the mileage drops to 18/23 mpg (20 mpg combined) in a 4-cylinder version. Strangely, the 2007 AWD V6 automatic Escape is also rated at 18/23 mpg.

Mechanical: Antilock brakes (ABS) are optional; standard from 2006. Rear brakes are drums; disc brakes were available on late V6 4WD models.
The Escape's optional all-wheel-drive system helps in slippery conditions but don't expect it to handle an off-road trail.

Safety: In the NHTSA frontal crash tests, the 2001-2004 Ford Escape received five stars for the driver and four stars for the front passenger. The 2004-2007 model got four stars for both the driver and the front passenger.

Pros: Great size, visibility, comfortable spacious interior, car-like handling, strong V6, rear seat folds flat, affordable price.

Cons: Spotty reliability, outdated interior design, interior materials quality, noisy ride.

Similar cars:
Overall: Both, the 4-cylinder and the V6 are good engines, but minor issues with either one are not uncommon. A transmission is another suspect. On the plus side, the Escape offers plenty of space, excellent visibility and easy handling. We also have seen a few V6 Escapes with over 250,000 miles still running. Among similar vehicles, Toyota Highlander is one of the best alternatives.

Common problems: There many complaints about electrical and automatic transmission issues. Minor engine and emission control problems are common. Engine oil and transmission fluid leaks are fairly common too. The V6 is especially prone to oil leaks. A cracked ABS wheel sensor ring could cause the ABS system to stop working and the ABS warning light to come on. See Youtube videos on the subject. Minor front-end issues like worn sway bar links are very common too.
What to look for when buying a used Escape: Watch out for rust around the rear quarter panels and underneath. Look for oil leaks or burnt oil smell under the hood. Lack of power on acceleration could be caused by a clogged catalytic converter; it is very expensive to replace. An automatic transmission is one particular area that needs to be tested thoroughly during the test drive. Make sure to test the hand brake and the rear wiper. If it's a 4WD model, see if the 4WD mode works. Watch for noisy tires due to uneven wear. Read what to look for when buying a used car.
Guides for used car buyers:
Maintenance: Keep the oil and transmission fluid topped up, as leaks are not uncommon. An automatic transmission fluid needs to be changed in recommended interval, as it deteriorates over time. Check your tire pressure regularly, as unequal tire pressure causes increased wear of the 4WD system components. If you need to replace an ignition coil because of misfiring, have all the spark plugs changed as well; this may help keep the ignition coils from failing. If your Escape stalls unexpectedly, visit your dealer, there is an engine computer software update available to address this problem. Servicing the throttle body once in a while can help avoid some idle issues. If your Check Engine light is on, have it diagnosed before the problem gets worse. Checking your vehicle in a repair shop at least once a year will help keep it safe.
You might also be interested:
Resources:
Recalls: Safety Recalls - NHTSA or Transport Canada - Motor Vehicle Safety Recalls.
Ford Owners - check the maintenance schedule or download an electronic copy of the owner's manual.
Escape City - Escape owners forum
Ford Trucks - Ford enthusiasts forum

2003 Ford Escape specifications
Dimensions:
Overall length:
Overall width:
Overall height:
Wheelbase:
Ground clearance:
Track front/rear:
173.0 (4394 mm)
70.1 (1781 mm)
69.1 (1755 mm)
103.1 (2619 mm)
7.8 (198 mm)
61.2/61.0 (1554 / 1549 mm)

Cargo capacity:
(rear seat up / rear seat down)


33.1 / 69.2 cu ft (937 / 1960 liters)


Base Curb Weight:
2WD 4-cyl. Manual:
4WD 4-cyl. Manual:
2WD V6 Automatic:
4WD V6 Automatic:


3019 lbs (1369 kg)
3175 lbs (1440 kg)
3181 lbs (1443 kg)
3346 lbs (1518 kg)


Maximum Towing Capacity:
4-cyl Manual:
V6 Automatic:
V6 with Towing Pkg.:


1000 lbs (454 kg)
2000 lbs (907 kg)
3500 lbs (1588 kg)


Engines:
4-cyl. Zetec engine:


V6 Duratec engine:
16 valves 2.0L DOHC I-4 iron block, aluminum head
127 hp @ 5400 rpm, 135 lb-ft @ 4500 rpm

24 valves 3.0L DOHC V-6 aluminum block and heads
201 hp @ 5900 rpm, 196 lb-ft @ 4700 rpm.

EPA Fuel Economy (US mpg, L/100 km):
2WD 4-cyl Manual:


4WD 4-cyl Manual:


2WD V6 Automatic:


4WD V6 Automatic:


city: 23mpg (10.2 L/100 km)
hwy: 28mpg (8.4 L/100 km)

city: 22mpg (10.7 L/100 km)
hwy: 25mpg (9.4 L/100 km)

city: 19mpg (12.4 L/100 km)
hwy: 25mpg (9.4 L/100 km)

city: 18mpg (13.1 L/100 km)
hwy: 23mpg (10.2 L/100 km)


Recommended Fuel:


87 octane (minimum)


Fuel Tank Capacity:
4-cyl engine:
V6 engine:


15 US gal. (57 liters)
16 US gal (61 liters)


Oil capacity with filter:
4-cyl engine:
V6 engine:
4.5 quart (4.3 liters)
5.5 quart (5.2 liters)