Chevy Cruze 2016-2019: pros and cons, common problems
The 2016-2019 Chevy Cruze is a stylish, roomy, fuel-efficient compact. It comes as a sedan or hatchback.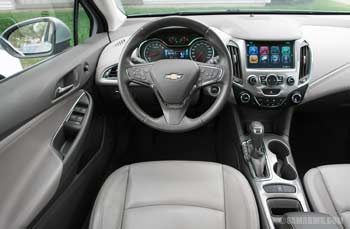 2018 Chevrolet Cruze.
The interior is nicely finished and offers a modern infotainment system. The Cruze comes with the 1.4-liter turbo Ecotec engine. A rare super fuel-efficient 1.6-liter diesel engine was added for 2017.
The Chevy Cruze has been discontinued after 2019. Is it a good car to buy used? What are the common problems? Let's start with pros and cons.
Pros:
Sleek looks, roomy stylish interior.
Good infotainment system, technology, nice sound, available Android Auto and Apple CarPlay.
Fuel economy. The 2017 Cruze auto is rated at 30/40 mpg city/hwy, making it a decent choice for long commutes.
Pleasant driving experience, comfortable, quiet ride.
Available Diesel engine is rated at 52 mpg on the highway (with a manual transmission).
Small engine is easy to work on for a DIYer; many parts are not very expensive.
Cons:
Engine problems. Will need some repairs with mileage. Some repairs (e.g., turbo replacement) could be costly.
The Start Stop feature could be troublesome.
Will not hold its value as well as some other compact cars.
Chevrolet Cruze common problems:
Most of the problems are related to the engine and include coolant and oil leaks, overheating, bad water pump, thermostat, Check Engine light and turbo issues. If you are buying a used Chevy Cruze, consider an extended warranty for the powertrain (engine and transmission). Here are examples of common problems:
The Check Engine light with the code P1101:
The GM service bulletin 20-NA-047 says that the code P1101 can be caused by 'higher than normal crankcase pressure, due to a plugged positive crankcase ventilation (PCV) orifice'. The same problem can cause multiple oil leaks from the engine from various seals and gaskets. The bulletin recommends checking the crankcase pressure and inspecting the PCV orifice in the camshaft cover (valve cover). Here is the link to this
bulletin
at the NHTSA website.
This code can also be caused by a dirty throttle body, which should be checked. Watch these
videos
about this code.
Turbocharger:
There are several reasons why a turbocharger may need to be replaced. One common reason if when the turbocharger wastegate sticks or if the wastegate seat cracks, which often causes the code P0299. Replacing a turbocharger is expensive (upwards of $1,500).
Lack of power, code P0299 in cold weather:
According to the service bulletin
22-NA-007
, loss of power, hesitation on acceleration, stalling condition and possibly Check Engine light in cold weather could be caused 'ice accumulation in the charge air cooler (CAC), restricting air flow to the throttle body.' As per the bulletin, the repair depends on the diagnosis and also includes reprogramming of the engine control module.
Oil leaks:
Oil leaks are common. One sign of oil leaks is the smell of oil from the vents. The repair will depend on the source of the leak. Often oil leaks are caused by excessive pressure inside the crankcase. The GM service bulletin we mentioned earlier
20-NA-047
advises to to check and clean the PCV orifice inside the camshaft cover (valve cover). If the orifice or PCV passages in the valve cover are blocked, it could cause excessive crankcase pressure resulting in various oil leaks.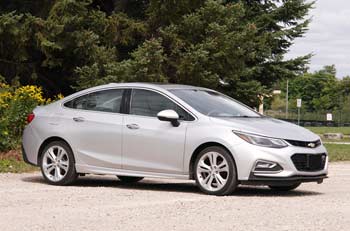 2018 Chevrolet Cruze.
Coolant leaks
: The coolant hose flange and the heater hose are common sources of coolant leaks. The coolant expansion tank could leak too. Since a lack of coolant can cause overheating of the engine, it's important to repair coolant leaks as soon as possible. It's also a good idea to check the coolant level often and top up if it's low.
2016-2019 Chevy Cruze Summary:
The Cruze is a stylish car and is a pleasure to drive. It also offers a good highway fuel economy and a well equipped interior with the latest tech. However, don't expect it to be completely trouble free.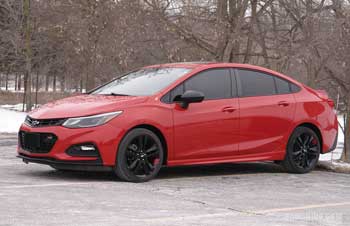 2018 Chevrolet Cruze with RS package.
Most of the problems are related to the engine. A lack of maintenance by previous owners can also cause multiple engine problems. We recommend using premium synthetic oil for turbo engines.
If you are buying a used Chevy Cruze, consider getting an extended warranty, at least for the powertrain (engine + transmission) with no limit per claim. Some repairs, such as the turbo replacement are expensive. The good news is that the small engine makes it fairly easy to work on for a DIYer and many parts are not very expensive. More reliable compact cars include the Toyota
Corolla
,
Mazda 3
, and
Honda Civic
.
Related reviews:
Chevrolet Cruze 2011-2015
Mazda 3 2010-2013 review
Mazda 3 2014-2018 review
Chevrolet Sonic 2012-2016
Toyota Corolla 2009-2013 review
Toyota Corolla 2014-2018
Honda Civic 2012-2015 review
What to look for when buying a used Chevrolet Cruze:
When buying a used Chevy Cruze, the engine needs to be carefully inspected. Check if the service records are available that can prove regular oil changes. Avoid the car if there have been issues with the engine overheating in the past or if you think the regular maintenance has been neglected by previous owners.
Watch out for oil leaks, burnt oil smell coming from the vents when driving or a blue or white smoke from the exhaust. All these symptoms point to engine problems. Also, avoid the vehicle if the engine rattles or if the Check Engine light is on. When test driving, watch out for jerkiness or hesitation when accelerating. Read more:
How to check the engine when buying a used car
.
Watch out for rough transmission shifts, read more:
Signs of automatic transmission problems when test driving a used car
. We recommend having the vehicle inspected properly, including from underneath, before signing the contract. Check if all outstanding recalls have been completed. Avoid the car if the price is too high, as it will depreciate fast.