Subaru Outback 2015-2019: pros and cons, problems
The Outback is a popular choice for outdoor enthusiasts and this generation is no different.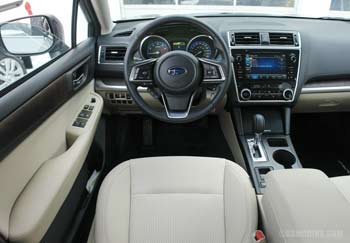 2018 Subaru Outback interior.
The Subaru Outback comes with a flat "boxer" 4- or 6-cylinder engine and standard all-wheel drive.
The interior is nicely finished and offers a classy dashboard design, comfortable seats and ample cargo space. Standard roof rails is a big plus. All model years of this generation offer a 5-star overall safety rating from NHTSA. Is it a good car to buy? Let's start with pros and cons.
Pros:
Stylish looks.
Enjoyable driving experience, smooth ride.
5-star overall safety rating from the NHTSA.
Nicely done, classic interior, comfortable seats.
Cargo space, standard roof rails.
Proven all-wheel drive system.
Low center of gravity thanks to the "boxer" engine.
Optional 3.6L 6-cylinder engine offers plenty of power and is super smooth.
Cons:
Battery draining issues.
Fuel economy could be better.
The engine is known to consume oil at higher mileage.
2015-2019 Subaru Outback common problems:
Electrical issues including the battery draining fast or failing and the audio/navigation system glitches are fairly common. Many Outback owners reported cracked windshields on the NHTSA website. Wheel bearings are also common to get noisy. There are not that many problems with the engine or transmission and both engines are naturally aspirated (non turbo) which is good for long term reliability.
Wheel bearings:
A humming noise that is more noticeable when driving at higher speeds is often caused by a bad wheel bearing. Your mechanic will have to diagnose or confirm which wheel bearing is noisy. Replacing a front wheel bearing (wheel hub assembly) in a 4-cylinder Outback will cost 1.5 hours of labor plus the cost of part. Replacing a rear wheel bearing will cost 1.7-1.9 hours of labor plus the part.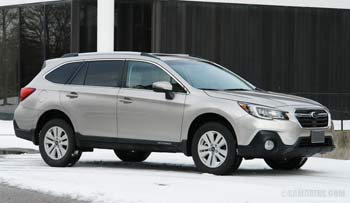 2018 Subaru Outback.
Battery issues:
Many Outback owners mentioned the problem with the battery where it drains fast and needs to be boosted. Often this happens when one of the electronic modules doesn't go into "sleep" mode and remains active consuming more electric current than needed when the car is parked.
One Subaru service bulletin
11-174-17R
for the 2015-2017 Outback recommends reprogramming the ECM to address potential battery discharge issues. This SubaruOutback.org forum
thread
talks about the battery issue.
In general, when there is a problem with excessive parasitic current draw, the first step is to check if all electric devices are turned off and things like a dash cam, USB adaptor or a GPS tracker are unplugged.
The second step is to have your mechanic check for parasitic current draw. Normally, in an average car, the parasitic current draw should be around 10-30 milliamps when measured after 30 minutes since the car had been turned off. If the current is higher the electric device that draws the excessive current must be isolated. It's not an easy process: typically mechanics disconnect electric circuits by removing a fuse and see if the current drops.
Summary:
Overall, it's a great car to drive, especially if you are into skiing or biking. Yes, having to replace the battery often is an inconvenience, but compared to more serious problems many other cars have it's not a major issue. If you don't care about the fuel economy, the 6-cylinder engine is very smooth and offers good power. Since the engine is known to consume oil at higher mileage in some cars, check the oil level regularly and top up if needed.
Subaru issued several recalls for the Outback, including the NHTSA Recall Number 16V292000 for the steering column with the "Urgent: do not drive this vehicle' note. Check for recalls at the
NHTSA website
.
Related reviews:
Subaru Forester 2009-2013 review
Ford Escape 2013-2019 review
Toyota RAV4 2006-2012 review
Toyota RAV4 2013-2018
Honda CR-V 2012-2016
Mazda CX-5 2013-2016 review
Nissan Rogue 2008-2013 review
Jeep Cherokee 2014-2020 review
Nissan Murano 2009-2014
Subaru Outback engines: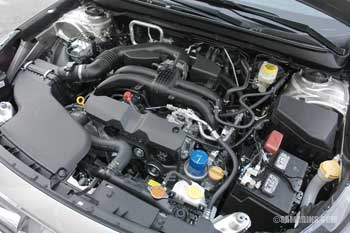 2018 Subaru Outback 2.5L FB-25 engine.
The 4-cylinder models come with the 2.5L 175-hp FB-25 DOHC engine. The 6-cylinder Outback has a 3.6L 256-hp EZ-36 6-cylinder engine. Both engines are naturally aspirated (non-turbo), which makes them simpler and easier to maintain. Subaru engines are flat, keeping the center of gravity of the vehicle lower.
Timing belt or chain:
Both, the 4-cylinder FB-25 and the 6-cylinder EZ-36 engines have a timing chain. There is no timing belt. The timing chain only needs to be replaced if it's stretched or if there is some other problem with it.
One common symptom of a problem with the timing chain is a rattling noise coming from the front of the engine. Timing chains are usually replaced as a kit with new tensioners, guides and other parts. Replacing a timing chain kit is not cheap: about 6 hours of labor plus the parts for the 4-cylinder engine.
Engine oil capacity (oil and oil filter change)
4-cylinder 2.5L models: 5.1 US qt or 4.8 liters, 0W-20 synthetic oil is the required oil.
6-cylinder 3.6L models: 6.9 US qt or 6.5 liters, 5W-30 oil (synthetic is preferred).
What to watch out for when buying a used Subaru Outback:
Check the service records if available and verify that all outstanding recalls have been completed. Test the heater and A/C, watch out for a noisy blower motor. Test the functions of the infotainment system. Try pairing your phone and see if all the features work.
Watch out for a rattling noise from the front of the engine when starting, as it could indicate problems with the timing chain components. During the test drive, see if the vehicle holds the road well and doesn't pull to one side. Watch out for noisy wheel bearings (humming noise). Watch out for jerky transmission shifts, read more:
Signs of automatic transmission problems when test driving a used car
.
A smell of burnt oil from under the hood could be an indication of oil leaks - sometimes they are difficult to repair. We don't see leaking head gaskets in this generation Outback, but watch out for a low coolant level or smell of coolant from the engine compartment. Have your mechanic checked the vehicle thoroughly, including from underneath before signing the contract.