2007-2016 Jeep Compass: pros and cons, common problems
The Jeep Compass is a compact crossover. It's a close relative of the Dodge Caliber and
Jeep Patriot
. The Compass is smaller than the Toyota RAV4 but taller than an average sedan.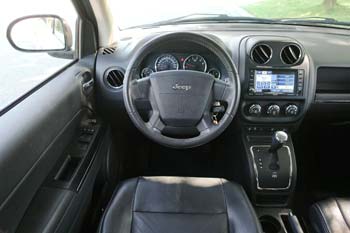 2010 Jeep Compass interior
The interior was upgraded for 2009, For 2011, the Compass received fresh styling with rectangular headlights.
The Jeep Compass comes with front or all-wheel drive, with a 4-cylinder engine and a choice of a manual or CVT transmission. For 2014, a conventional 6-speed automatic transmission was added as an option.
A used Jeep Compass is not very expensive, but is it a good car? Let's start with pros and cons:
Pros:
It's a good looking small Jeep.
Affordable prices.
Easy to get in and out of.
Good engine.
Available 6.5-inch screen and other cool features.
Easy to work on DIY.
Cons:
Interior plastic is not of the best quality.
Electrical problems, not very reliable.
Depreciates fast.
Slow acceleration, noisy engine.
Fuel economy could be better.
Could be costly to keep on the road at higher mileage.
Jeep Compass common problems:
No-start and stalling problems are fairly common, for example, due to a failing throttle body, crankshaft position sensor or corrosion at the fuse box. Suspension and driveline problems are common too, including bad control arms and wheel bearings. With age, some rust damage can appear around the rear wheels. Overall, the Compass is not very reliable, but it's the cheapest Jeep you can buy and it has a pretty good engine.
Examples of Jeep Compass problems: Corrosion at the relay box located in the left front wheel well (in front of the left front wheel) can cause the car not to start. We are sure many Jeep owners thanked the engineers for placing it there. Luckily there are many YouTube videos available on repairing the issues. This
video
explains it well.
Issues with TIPM modules can cause variety of electrical faults; more problems have been reported in early model years. TIPM is the main fuse box under the hood and is expensive to replace. Cheaper aftermarket TIPM modules are available, but the replacement module might need to be reprogrammed. Tip: with any electrical issue, check the related ground wire connection. The one that commonly gets corroded is on the rail (frame) near the alternator; watch this YouTube
video
.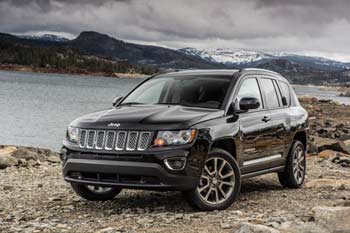 2016 Jeep Compass (MK49). Photo: FCA
A whining noise from the alternator can be caused by a bad alternator decoupler pulley, we found a few
videos
explaining the repairs.
Alternator
failures are also not uncommon. Replacing an alternator is a 1.5 hour job (in the 2.4L engine) plus the part.
The code P0456 is often caused by a bad gas cap or a failed EVAP leak detection unit, although to confirm, your mechanic will have to test the EVAP system for leaks. If you want to save money, try changing the gas cap first (it wears over time anyway), clear the code and see if it comes back.
A bad or clogged up intake manifold in the 2.4L engine can cause the code P2004. The common repair is to replace the intake manifold, which is a 2.0-hour job plus the part. Some YouTubers try cleaning the manifold instead. Watch
these videos
.
The code P0335 in the 2.4L engine is often caused by a bad crankshaft position sensor. Your shop may charge you about 1.1 hour of labor plus the part to replace it. Watch
these videos
on the repair.
The failed
throttle body
can cause the throttle control warning light to come on and possibly some other issues including going into the limp mode. This problem also affected mostly early model years (2007, 2008). An OEM throttle body is quite expensive. An aftermarket part is cheaper, but the quality of aftermarket parts is not always up to the standards.
Other reported repairs include wear items that are common to fail in all cars, such as wheel bearings, tie rod ends, sway bar links and
control arms
. Expect to pay about 0.7 hours of labor to replace one front lower control arm plus the cost of part, plus the wheel alignment. Replacing one wheel bearing costs from $350 to $520. A bad wheel bearing can produce a humming noise when driving at highway speeds.
A bad or rusted rear wheel bearing can even cause the ABS light to come on (the wheel speed sensor is attached to the bearing). The scan may show the code for the rear speed sensor. Other reported problems that can cause an ABS light include corroded wiring under driver's footrest and a bad wheel speed sensor.
There have been issues with rust damage. FCA issued Warranty Extension X69 to address front and rear crossmember corrosion in the 2008-2012 Jeep Compass in the Canadian market and in Salt Belt states.
FCA also issued several PCM and TCM software updates and a few recalls. Check for recalls at the
NHTSA website
.
Summary: Is a used Jeep Compass a good car to buy?
The Jeep Compass owner reviews online range from "Don't buy it" to "It's a bit slow and not very good on gas, but I love it!" Government crash-test ratings are not great with 3 out of 5 stars for frontal crash in the 2013-2017 model years.
The Jeep Compass is unlikely to outlast some Toyota or Honda and could be costly to keep on the road at higher mileage; it also doesn't hold its value well.
On the plus side, the Compass is available with all-wheel drive and is not very expensive on the used car market. It has a practical interior and is easy to get in and out of. Both the 2.0L and 2.4L engines are mostly solid. The quality has improved to a degree in later model years. Hey, it's a Jeep thing!
In our view, the 2014-plus models with a 6-speed automatic transmission are a better choice than models with CVT transmission. Early model years should be avoided. Read also:
Pros and cons of buying a car with a CVT transmission.
If the long-term reliability is important and you don't need the all-wheel drive, check out the
Toyota Matrix
or
Pontiac Vibe
with a 1.8L engine; both are reliable spacious cars with good gas mileage. We would also recommend the
Mazda CX-5
,
Toyota RAV4
and
Honda CR-V
although they all tend to be a bit more expensive. Honda HR-V is another great vehicle of the same size.
Related reviews:
Jeep Patriot 2007-2017 review
Subaru Forester 2009-2013
Honda CR-V 2007-2011 review
Toyota RAV4 2006-2012 review
Toyota Matrix 2009-2014 review
What to look for when buying a used Jeep Compass:
Check the roof liner and the dome light for water marks and possible leaks from the sunroof. Watch out for rust damage. Test all electrical features carefully, including the horn, A/C, power windows, wipers, etc.
Check all the door handles and locks. During the test drive, watch out for whining or humming noises, as they could be coming from the transmission or the engine. Read more:
Signs of automatic transmission problems when test driving a used car
.
Avoid the car if any of the warning lights coming on while driving or if you suspect electrical, engine or transmission issues or if the vehicle shows signs of overheating. A blue smoke from the exhaust is another reason to pass on the vehicle.
We recommend having the vehicle inspected by a trusted mechanic before buying. The underneath of the vehicle needs to be inspected for leaks, rust damage, suspension and other problems. Read more:
How to inspect a used car - illustrated guide
.
Jeep Compass Engines:
The first-generation Compass comes with the 2.0L or 2.4L inline-4
DOHC
engines known as World Gas Engine.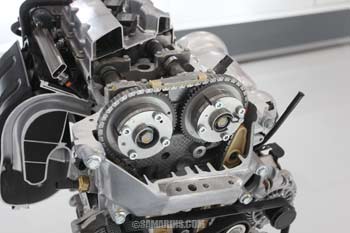 FCA World Gas Engine (GEMA).
The 2.0L offers 158 horsepower and is only available with front-wheel drive. The 172-hp 2.4L is a similar engine with more power. Both engines are a bit loud and not super refined but both have been mostly solid through the years. The EPA rates the 2011, 2012 Jeep Compass with a 2.0L engine and CVT transmission at 23/27 mpg. The 2014-2015 4WD Compass with a 2.4L engine gets 21/27 mpg city/highway. Since the difference in gas mileage is small, the 2.4L engine is a better choice in our view, as it offers a bit more power.
Both the 2.0L and 2.4L engines have a timing chain (in the photo). There is no timing belt.