Honda Accord 1998-2002: problems, timing belt or chain, fuel economy, engine
The 1998-2002 Honda Accord came as a 4-door sedan or 2-door coupe, with a 4-cylinder or V6 engine. The Accord's roomy cabin offers good visibility, easy-to-use controls and comfortable seats.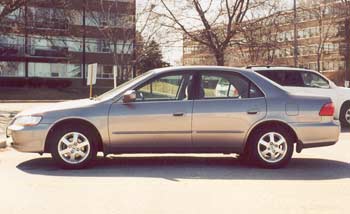 2001 Honda Accord.
Anti-lock brakes (ABS) and traction control system (TCS) as well as side airbags were available. The Accord handles well; the ride is firm but compliant. The steering is precise and responsive. The V6 Accord offers plenty of power. The Honda Accord is one of the most dependable cars, but there have been some issues. What are the reported problems?
Reported problems:
A worn ignition switch could cause a car to stall, even though it may re-start again. There was a recall for this issue. If your Accord has a stalling problem, check with your local Honda dealer if this recall has been done on your car. If the ignition switch has already been replaced, it's still worth checking it out.
Another known issue that can cause the engine to stall or not to re-start intermittently is a faulty main relay (PGM-Fi). One of the common symptoms of a bad PGM-Fi relay is that the car won't restart when hot, but starts again after it cools down. Watch these
videos
describing the problem.
A failed starter motor can also cause the engine not to start. Mechanics test the starter motor by checking the voltage at the starter control terminal, read more:
Starter motor
. Replacing a starter motor could cost from $380 to $520.
A bad heater control panel can cause the air conditioner not to work. We found these
videos
Youtube on this issue.
The code P1457 can be caused by a bad EVAP canister vent solenoid (Shut Valve) or EVAP bypass solenoid valve. They both are located at the charcoal canister at the back of the vehicle. The solenoid fails more often. Watch these
videos.
The code P0420 is usually caused by a failed catalytic converter. The OEM part is expensive, but a local muffler repair shop might be able to repair it cheaper help with an aftermarket part.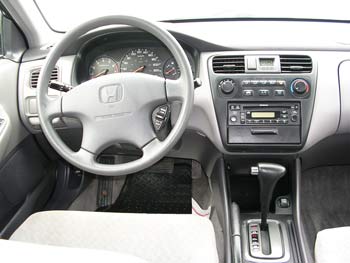 2001 Honda Accord.
The EGR codes P0401 or P1491 in a V6 Accord could be caused by a clogged up EGR port. There was a TSB mentioning cleaning the EGR port, and installing the EGR pipe kit as a fix for this issue. There are several
videos
describing this repair.
Worn sway bar bushings could be one of the possible sources of a clunking noise coming from the front suspension when driving over small bumps.
Common problems causing overheating of the engine include a leaking heater hose or a bad thermostat. Mechanics do a cooling system pressure test to find the leak.
Failed ball joints in both lower and upper
control arms
are not uncommon. Replacing one control arm costs from $160 to $390.
Engine, Timing belt or chain:
The 1998-2002 Honda Accord offered three engines: the base 135-hp 2.3L 4-cylinder 16-valve
SOHC
(Single Over Head Cam)
feels a bit underpowered, but otherwise is a good reliable engine. The 150-hp 2.3L 16-valve SOHC VTEC inline-4 offers reasonable power and fuel economy. It's a strong and also reliable engine. The 200-hp 3.0L SOHC V6 VTEC is smooth and has plenty of power. All three engines have a
timing belt
that must be changed at recommended intervals. Read more about
timing belt
.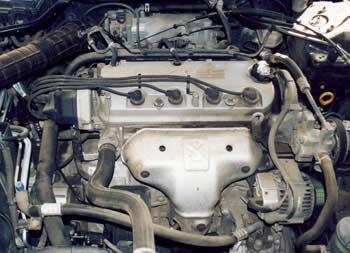 Honda Accord 2.3-liter VTEC engine.
Fuel economy:
The 1999-2001 2.3L VTEC Honda Accord automatic is rated at 20/28 mpg or 11.8/8.4 liters per 100 kilometers city/highway. This means you can get up to 375 miles or 600 kilometers to a tank. The 2001 V6 Accord gets 18 mpg city, 26 mpg highway (13.1/9.0 L/100 km).
What to look for when buying a used Honda Accord:
Watch out for blue smoke or loud engine rattle when the engine starts. During the test drive, pay particular attention to the way the automatic transmission works, especially on V6 models. If you notice any transmission issues like harsh shifts, jerks, delays, slipping between gears, noises, avoid the car. A clunk or strong jolt when shifting into Reverse is an early sign of a worn-out transmission. If the transmission fluid appears too dirty (black) or has a burnt smell, avoid the car. During the test drive, listen for humming noise coming from the wheel bearings; bad wheel bearings are not uncommon. Make sure to test the air conditioner.
Check if the timing belt has been replaced recently (it's a few hundred dollar job). The "Check Engine" light staying on after the car has started indicates a problem. Read more on
how to inspect a used car
.
Maintenance tips:
Don't miss your regular oil changes; keep the engine oil level topped up. Change your transmission when it gets dirty, use only the recommended fluid (Honda ATF-Z1). Avoid overheating the engine, as it may cause serious problems. The owner's manual for the 2001 Accord recommends replacing the balancer belt and the
timing belt
at 105,000 miles or 168,000 km if the car is operated in normal conditions. The balancer belt requirement only applies to 4-cylinder models. It might be a good idea to replace the water pump when you change the timing belt. If your car is diagnosed with a bad
ignition coil
, it's a good idea to change all the spark plugs if they are old.