How much does it cost to buy a used car?
September 29, 2019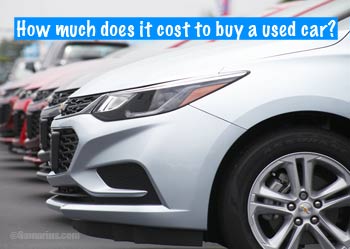 Buying a used car means financial freedom, because you can pay it off sooner.
Having a car means freedom because you can drive anywhere you want. Buying a used car means financial freedom, because it's cheaper and you can pay it off sooner. You can have a nice set of wheels and no monthly car payments to worry about.

The key is to find a car that has a great reputation for reliability and check it carefully. You want a car that is in good mechanical condition. How much money do you need to buy a used car? Let's look at the price ranges.

For $10,000-20,000 you can buy a nice 3-4 year old vehicle in good condition that can last for another 4-5 years without major problems. SUVs, pickup trucks and luxury cars are usually priced in the top portion of this range. Family sedans are in the middle.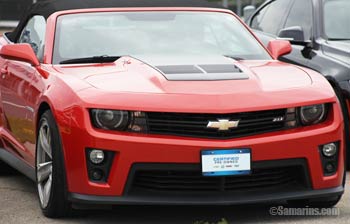 New car dealers always have steady supply of late-model certified pre-owned cars.
Small cars are at the lower end. Many used electric cars are also available within this range.

Often you can find this type of vehicle under Certified Pre-owned program at a new car dealership. Certified Pre-owned cars are priced a bit higher than similar cars, but they are usually in better condition and carry some extra warranty. This would be your safe bet. A new car dealer may have service records, so you can verify that the car has been maintained regularly. Even if the car was originally sold at a different dealership, new car dealers have access to a nationwide database.

If you visit one of the local new car dealers with good reputation, you can find that many used cars are in like new shape. New car dealers often employ highly skilled technicians that perform the repairs needed to certify a used car. Yes, new car dealers will always try to sell you some add-ons, like some paint or tire protection or extended warranty, but you always can say no.

Another option that is within this price range is a one-year old car that came from a car rental company. A one-year old car will still have some factory warranty coverage left, and ex-rental cars are usually priced lower. Read more: Buying a used car that was a rental.

For $5,000-10,000 you still can find a used car in decent condition, although it will probably be a 4-9 year old vehicle with higher mileage.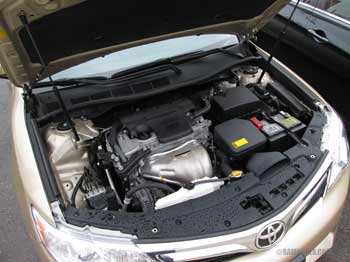 Toyota 4-cylinder 2.5L 2AR-FE engine found in Camry and RAV4 models is one of the most reliable engines.
It will take more time to find a good car for this price, but there are still plenty of choices. Be prepared to check many cars. More likely, you will find a vehicle in this price range sold by an independent used car dealer or a private owner. Some new car dealers may also have a few cars within this price range on their lots.

Research the reliability and common problems of the vehicle you like (read below how) and have it carefully inspected to avoid lemons. Read more: how to inspect a used car. Avoid luxury, and turbocharged cars, as they are more likely to need expensive repairs later. Often cars that have some minor cosmetic damage are cheaper.

Even for under $5,000, you should be able to find a car in fair condition.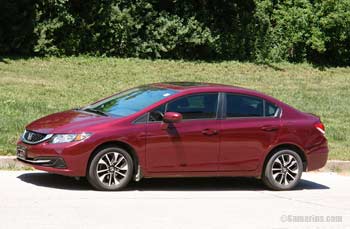 Honda Civic is a popular choice for a cheap commuter car.
Of course, you will have to look at many cars. For this price range, it might be a good idea to look for a basic small or mid-size car with a 4-cylinder engine, because they are better on gas. If you drive an average of 15,000 miles per year, a pickup truck or larger SUV will cost you more than $3,000 annually in gas alone. If you have a small car, you will pay no more than $1,500 for gas with the same driving pattern. Avoid cars that show excessive rust damage, especially in the rust belt.

A car for under $5,000 will have higher mileage and will need some repairs to keep it on the road. Used cars in this price range are typically sold privately or by small used car lots.
If you already know a mechanic that will service your car, ask him or her which car should you choose to keep the maintenance and repair costs low.

The next step is to see what cars are available in your area within your price range. Visit one of the used car sales websites like Cars.com or AutoTrader.com (AutoTrader.ca or KijijAutos.ca for Canada), select the maximum price you want to pay and search for used car listings near you. Once you find a few cars that you like, research their reliability and common problems. Look up the models that you picked at CarComplaints.com and check what are the common complaints and what model years are the worst. Avoid cars that have many complaints about the engine or transmission; both units are very expensive to repair.

Among the car brands, Honda and Toyota are usually a safe bet. Mazda has been making pretty good cars recently too. Compare the insurance quotes, as some cars cost a lot to insure. To check the fuel consumption data check FuelEconomy.gov. Safercar.gov offers crash test ratings.
Hopefully, this article can help you find a nice used car. Share your experience with us on our Facebook page. Happy motoring!
---