Chrysler PT Cruiser 2001-2010: powertrain, problems, pros and cons, maintenance tips
Updated: October 10, 2019
A very few cars can compete with the PT Cruiser style in the sea of modern econoboxes. Classified in the U.S. as a truck, the PT Cruiser rides on a car-like front-wheel drive unibody platform, with a 4-cylinder engine. It handles well and has a practical interior with easy access and versatile cargo space.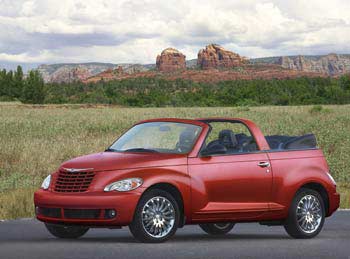 2006 Chrysler PT Cruiser
(Photo: Chrysler)
Inside, the PT Cruiser looks like no other car. The 2001-2005 models had a center console designed in a similar fashion to many other Chrysler cars, while the 2006 and later models got a retro-styled dashboard with the old-fashioned instruments and a signature clock at the top of the center console. The upright driver position gives a good view of the road ahead, but the thick rear pillars reduce rear visibility. Rear seats can be folded forward or removed completely giving the PT Cruiser plenty of cargo space. Initially, the PT Cruiser was available only as a five-door wagon. A two-door convertible was added for 2005, but discontinued after 2008.
Chrysler PT Cruiser problems:
One of the issues that can cause the engine to overheat and the A/C not to work is a bad cooling fan motor. The cooling fan has two speeds, often one of them stops working. For example, watch this
video
. Sometimes this could happen intermittently. Severe overheating can damage the engine, so it's recommended to repair the overheating problem before it causes more damage. A bad thermostat, clogged radiator or bad radiator cap are other possible reasons for overheating. Here is a good
video
on Chrysler PT Cruiser cooling fan troubleshooting. Check more
videos
on this subject.
A bad camshaft sensors could cause the code P0340 as well as some driveability issues, including stalling. The crankshaft position sensor must be checked too as it also can cause the same issue.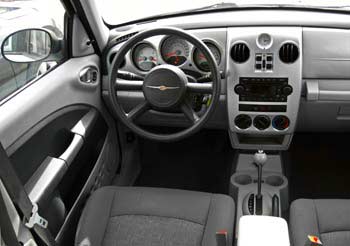 2009 Chrysler PT Cruiser interior
When replacing either sensor, it's best to use an original part bought from a dealer. Both sensors are not very expensive to replace.
Some suspension problems, like bad
control arm
bushings are fairly common. The part called
watt's link
in the rear suspension commonly goes bad causing the clunking noise from the rear when driving over bumps. If you Google
'watts link pt cruiser
' there are few DIY instructions how to replace it. This website:
Ptcruizer.com
has a good collection of repair tips. Struts, ball joints and CV axles can also go at higher mileage.
Powertrain:
For 2001, the only available engine was a 150-hp 2.4L 4-cylinder
DOHC
. This engine has a
timing belt
that needs to be replaced at recommended intervals. Timing belt replacement is labor intensive and could be costly ($500-$750 parts and labor). A turbocharged version was added for 2003. Read also:
Pros and cons of turbo engines
.. Transmission choices included a five-speed manual or four-speed automatic.
Pros:
Original style, easy to customize, versatility, cargo space, available as a convertible, easy access, affordable.
Cons:
Fuel economy, lack of passing power on non-turbo models, low front end scrapes easily, depreciates fast, below-average reliability.
Overall:
On one hand, the fuel economy is not very good and the reliability is below average. A cramped engine compartment makes it difficult to work on; for example, to change the spark plugs, the top part of the intake manifold has to come off. The PT Cruiser doesn't hold the value very well and there are plenty of complaints about electrical, front-end, engine and other problems.
On the other hand, it's still an eye-catcher and it's not very expensive. The PT Cruiser has a roomy practical interior and versatile cargo space. It's easy to drive and you can get a convertible too. There are so many accessories available, that you can customize your Cruiser in any possible way. Our advise, if you want to buy the PT Cruiser, find the mechanic familiar with this vehicle (may be at a local Chrysler dealership?) and ask him or her to inspect it carefully and tell you what to expect.
Related reviews:
Honda Civic 2006-2011 review
Toyota Corolla 2009-2013 review
Mazda 3 2010-2013 review
Toyota Corolla 2009-2013 review
Handling and ride:
On the road, the PT Cruiser is easy to drive. Ride is firm, but road bumps are absorbed nicely. The non-turbo engine feels a bit underpowered on acceleration, but is adequate around-town. On the downside, the turning radius is wide and the road, wind and engine noise are noticeable at higher speeds.
Safety:
Antilock brakes, traction control and side-impact airbags were optional. In the NHTSA frontal crash tests, the 2001 Chrysler PT Cruiser received only two stars for the driver and four stars for the front passenger. The improved 2002-2010 PT Cruiser received four stars for both the driver and the front passenger. In the NHTSA side-impact crash tests, the 2001-2010 PT Cruiser received four stars for the driver and five stars for the rear passenger protection.
What to look for when buying a used Chrysler PT Cruiser:
If you notice oil or coolant leaks, be careful; some oil leaks could be caused by internal engine problems and the repair is expensive. When you take your Cruiser for a pre-purchase inspection, ask to check for oil leaks especially around the front crankshaft seal; it's a known problem. A black soot in the exhaust or blue smoke may indicate excessive oil consumption. If you see any smoke, even a puff of blue smoke when the car is started, avoid the car. During a test-drive, if you notice the engine temperature rises above normal, avoid the car. Vibration and growling or whining noise coming from the wheels could indicate a bad wheel bearing, which is a fairly common issue. Watch for any noises from the suspension. There are plenty of suspension components that can go bad. Check if the timing belt has been replaced.
Maintenance tips:
Change engine oil regularly. We checked maintenance schedules in owner's manuals for 2004 through 2010 PT Cruiser. For these model years, Chrysler recommends changing oil every 3,000 miles (5,000 km) if the car is used in operating conditions like stop and go traffic, repeated short trips, below-freezing temperatures, etc.
For normal operating conditions, the recommended oil change interval is listed at 6,000 miles (10,000 km). We think that 3,000-3,500 miles oil change interval is reasonable to keep your engine in good shape. You can download an owner's manual
here
.
Check the tire pressure regularly; there are some complaints about tires losing air due to corrosion on the rims.
The PT Cruiser 2.4L engine has a
timing belt
that needs to be replaced at recommended intervals. The owner's manual for the 2007 model PT Cruiser recommends replacing the timing belt every 102,000 miles or 170,000 km for a non-turbo engine and 100,000 miles or 160,000 km for a turbocharged engine. We recommend replacing the timing belt earlier, for example, at 80,000 - 90,000 miles, or at least, have it checked when the mileage is approaching the change interval. When doing the timing belt, it makes sense to replace the water pump as well. The flashing Check Engine light and occasional misfiring could be caused by bad spark plugs and wires; if you haven't done a tune-up in a while, it might be a good idea to do it now. If you notice that the engine temperature rises above normal, have the car checked before it overheats. Change transmission fluid at recommended intervals. Keep the coolant and other fluids clean and topped up. Have your car inspected at least once a year in a garage on the lift (e.g. when doing tire rotation) to keep it safe.
Resources:

Safety Recalls - NHTSA
- check for recalls.
Transport Canada - Motor Vehicle Safety Recalls
- check for recalls in Canada.
Ptcruizer.com
- plenty of info and tips.