2015-2017 Chrysler 200: Problems, pros and cons, photos
Updated: Dec 5, 2021
The Chrysler 200 is a rare stylish upscale sedan. It handles well and the V6 power is amazing. The ride is smooth and quiet. The Chrysler 200 comes with a 2.4L 4-cylinder or the 3.6L V6 engine and is offered with front- or all-wheel drive (V6 only).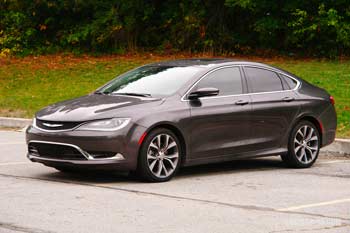 2016 Chrysler 200.
The 9-speed automatic transmission is standard on all models. A used Chrysler 200 is not very expensive compared to other sedans. Is it reliable? What are the reported problems? Which engine is better?
Chrysler 200 problems:
The code
P0128
in the 2.4L Multiair engine could be caused by a bad
thermostat
. Replacing a thermostat can cost from $320 to $450 in a repair shop. If you replacing the thermostat at a Chrysler dealer, they might also do the software update for the computer (PCM). We found several
YouTube videos
describing the repair. The part itself costs $35-$60; it's best to use an OEM part.
We found a few reports of coolant leaks. Coolant smell from the engine compartment is also a possible sign of a leak. The problem is that a lack of coolant can cause overheating and it's bad for the engine. if you notice the engine temperature rises too high or find coolant leaks or dropping coolant level, have the cooling system checked. There are many reason why an engine can overheat; for example, a lack of coolant, a faulty radiator fan or a stuck-closed thermostat. For example, watch this
video
where overheating of the 2.4L Multiair engine was caused by a bad radiator fan.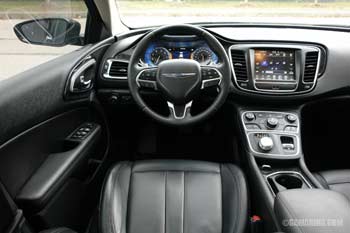 2016 Chrysler 200 interior.
Failed rocker arms (aka cam followers) can cause a ticking noise in the 3.6L Pentastar V6 coming from the top of the engine. A rocker arm is an inexpensive part, but if not replaced in time, a bad rocker arm can damage the camshaft, which will require more costly repairs. See this
illustration
of what is a rocker arm. Here is the
article
explaining the repair; we also found many
YouTube videos
on this repair. If you hear a ticking noise from the top of your V6 engine, have it checked out. If one rocker arm is bad, your mechanic might recommend replacing all of them.
An oil filter housing/cooler in the 3.6L V6 might need to be replaced if it leaks oil.
Overall, the 2015 Chrysler 200 has received many more complaints than later years. As of December 2021, the NHTSA website shows 1793 complaints for the 2015 Chrysler 200 (most for the 'powertrain' and 'engine') and only 288 complaints for the 2016 model year. Many complaints are about stalling and issues with the 9-speed automatic transmission. Fiat Chrysler (FCA) issued several recalls and software updates, including the recall
S55 / NHTSA 16V-529
for the 2015 Chrysler 200 to address transmission concerns.
In some vehicles, the transmission has been repaired or replaced during the warranty period. One possible cause of stalling is a low oil level in the 2.4L Multiair engine, although there could be other reasons. There have been reports of excessive oil consumption in this engine.
Various electrical problems and Uconnect glitches have also been reported. With any electrical problem, the battery must be tested first, as a weak battery can cause many issues. FCA has issued several software updates for Uconnect. Visit
DriveUconnect.com
to check for updates. Several owners mentioned that hard-resetting the system by disconnecting the battery fixes some of the glitches.
Replacements of the regular wear items like struts, control arms, wheel bearings, sway bar links, etc. have also been reported.
Despite the problems mentioned above, we found many positive owner reviews who were happy with the car. Many owners agreed that this car should not have been discontinued. The 2016 Chrysler 200 we test drove didn't have any problems and was a blast to drive. Check for recalls at the
NHTSA website
.
Engines:
The Chrysler 200 comes with either a 184-hp 2.4L Multiair SOHC inline-4 or a 295-hp 3.6L Pentastar DOHC V6. There were some complaints about the oil consumption in the 2.4L Multiair, so checking the oil level regularly and doing the oil changes more frequently will help avoid expensive problems. The 3.6L Pentastar V6 is a modern engine with plenty of power and is solid for the most part, although not completely trouble-free. There have been issues with rocker arms, oil pumps and oil filter housing/cooler assemblies. Still, the V6 is a better choice.
Timing belt or Timing chain:
Both the 2.4L Tigershark Multiair and the 3.5L Pentastar V6 are equipped with a timing chain. A timing chain only needs to be replaced if it's stretched or there is some problem with the chain or the hardware.
Reliability:
As of December 2021, Consumer Reports rates the 2015 Chrysler 200 as 'average' for reliability; the 2016 and 2017 model years were not rated.
Pros:
Stylish looks, driving experience, fuel efficient 2.4L engine, fast V6, upscale interior, available 8.4 -inch display, great sound system, plenty of high-tech gadgets, spacious trunk.
Cons:
Loses value fast, rear headroom is a bit tight, blind spots, reliability is not great, quirky 9-speed transmission, repairs could be costly at higher mileage.
Overall:
The 200 is a good-looking sedan with many available high-tech features. With almost 300 horsepower, the Pentastar V6 is fast. Of course, as with any car, the more complex technologies, the more chances that something will go wrong, especially at higher mileage. If you want to buy the Chrysler 200, takes some time to research possible problems and repair costs. The 2015 model has received the bulk of the complaints and should be avoided. We recommend buying a good extended warranty to protect from unexpected repair costs.
Related reviews:
Honda Accord 2013-2017 review
Toyota Camry 2012-2017 review
Honda Accord 2008-2012 review
Mazda 6 2009-2013 review
Mazda 6 2014-2019 review
What to look for when buying a used Chrysler 200:
Watch out for any warning lights staying on, especially the airbag light that might require costly repairs. A low oil level might be an indication of excessive oil consumption. Carefully check all the electrical features and electronics. The transmission needs particular attention during the test drive. Watch out for jolts, shuddering, hesitation or slipping. Some owners mentioned that the transmission might slip into Neutral occasionally. Before buying, we would suggest having the vehicle inspected by a Chrysler mechanic for leaks and other problems. Check if all the recalls and software updates have been done.
With the EPA rating of 23/36 mpg city/highway, the front-wheel drive 2015-2017 Chrysler 200 with a 4-cylinder engine is one of the most fuel-efficient family sedans; the estimated range on one tank is 506 miles or 814 km on a long highway trip. The 3.6L V6-powered Chrysler 200 gets 19 mpg city, 31 mpg highway on regular gasoline, with the range of 427 miles or 687 km in mostly highway driving. The AWD V6 model is rated at 18/28 mpg on regular gasoline.
Maintenance tips:
Given the oil consumption complaints, it's a good habit to check the oil level regularly and top up if needed; see
how
. More frequent oil changes will help keep the engine clean inside. Given the design of the plastic oil filter housing, extra care should be taken when changing the oil filter; don't over torque it. Watch out for coolant level dropping and for signs of coolant leaks; a lack of coolant can cause overheating and expensive repairs. Any cooling system problem needs to be addressed as soon as possible. The maintenance schedule for the 2016 Chrysler 200 recommends replacing an engine air filter every 30,000 miles and spark plugs every 100,000 miles. We think that the air filter should be replaced when dirty.
Photos: