Toyota Sienna 2004-2010: problems, fuel economy, driving experience, interior photos
Updated: February 20, 2020
The previous-generation Toyota Sienna has not been a great success. Toyota engineer Yuji Yokoya was tasked with redesigning the 2004 Sienna for the North American market. To understand what North American minivan owners need, Yokoya drove the vehicle all over Canada, the U.S. and Mexico.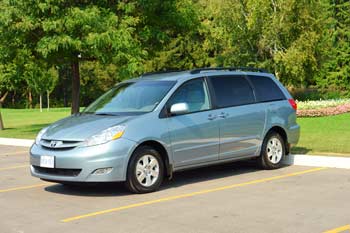 2007 Toyota Sienna.
This experience has been vital in adding many improvements to the Sienna. As a result, the 2004-2010 Sienna is larger, more maneuverable and offers more storage compartments and other improvements. Toyota Sienna comes with front- or all-wheel drive in a 7- or 8-passenger configuration. Overall, it's a pretty good minivan, but there are problem areas to watch out for.

Toyota Sienna problems: Several owners mentioned problems with the sliding doors. According to the Toyota bulletin POL12-02, the warranty for the Rear Sliding Door Latch Assemblies and Power Sliding Door Cable Assembly has been extended for some models to 9 years or 120,000 miles.
The front door checker's mounting panel spot welds can become detached. Toyota has issued a warranty extension. If out of warranty, the repair is quite expensive. See YouTube videos on the subject. The symptom of this problem is a loud popping noise when opening the driver's or the front passenger's door.
The interior of 2007 Toyota Sienna.
When buying a used Toyota Sienna, both front door checkers must be inspected carefully.
Many owners have reported cracks in the dashboard at higher mileage. This thread discusses the issue and possible fixes.
Exhaust leaks are mentioned often. The repair with aftermarket parts is not very expensive.
Leaking valve cover gaskets at higher mileage are not uncommon ($220-$380 to replace).
Oil cooler lines in the 2007-2010 models are another common source of leaks. Toyota has issued the Warranty Enhancement Program ZE2 to address the problem. Read more in this forum.
Several owners mentioned replacing a leaking steering rack. With an aftermarket part, the repair may cost $400-$650. The intermediate steering shaft can fail too. The part is about $180-$370, plus $90-$220 to replace. A bad steering rack or intermediate shaft can cause a rattling noise in the steering.

Despite the problems mentioned above, compared to other minivans, the 2004-2010 Sienna is one of the better ones. It's not uncommon to see the Sienna with over 200K miles still running strong.

Engine: The only powertrain choice is a transversely-mounted V6 with a 5-speed automatic transmission. The 2004-2006 Sienna has a 230-hp 3.3L V6 (3MZ-FE). For 2007, the Sienna received a 266-hp 3.5L V6 (2GR-FE).


EPA Fuel Economy:
mpg
city/hwy
L/100 km
city/hwy
2004 Sienna 3.3L 2WD
17/25
13.8/9.4
2005-2007 Sienna 2WD
17/24
13.8/9.8
2004-2005 Sienna 3.3L AWD
16/22
14.7/10.7
2007 Sienna 3.5L AWD
16/21
14.7/11.2
2006 Sienna 3.3L AWD
15/21
15.7/11.2
Fuel Economy: The 2007 FWD Sienna is rated at 17/24 mpg city highway. This means that on a long highway trip, you can get up to 440 miles (708 km) on a 20-gallon (75.7 liters) tank. See more details in the table.

Timing Belt or Timing Chain: The 3.3L V6 engine (3MZ) in the 2004-2006 Sienna has a timing belt that must be replaced every 90,000 miles. Replacing a timing belt with a water pump may cost from $850 to $1,100. The 3.5L V6 (2GR) in the 2007-2010 Sienna has a maintenance-free timing chain. The timing chain only needs to be replaced if there is a problem with it.

Mechanical: The Sienna has MacPherson struts in the front and a torsion beam in the rear suspension. Anti-Lock Brakes (ABS) are standard. Vehicle Stability Control with Traction Control is available.


Interior: Inside, the Sienna offers plenty of space combined with versatility and comfort. Controls are simple and easy to use.
The 7-seat Sienna offers two full-size comfy second-row captains-chair seats with armrests. The right seat can be repositioned side-to-side, offering either a bench or bucket arrangement. In the eight-passenger configuration you get three separate second-row seats combining a bench. The middle seat can be moved close to the front seats, making infants and toddlers in a child seat more accessible. The 60/40 split third-row seat folds flat into the floor without removing the headrests. When the seat is in the upright position you get a large storage well behind it.

If you need more cargo room, the second-row seats can be removed, although they are quite heavy. In addition, on some models, the front passenger seat can be folded down to use as a table-top. With the seats folded, the Sienna offers 148.9 cu. ft of cargo space. Both sliding doors are equipped with power windows. There are plenty of cup holders and storages. The list of available options includes Navigation system with Rearview camera, Rear DVD, Dynamic Laser Cruise Control and power rear gate.

Related reviews:
Driving experience: The Sienna is a pleasure to drive. The ride is soft and quiet, road noise is well absorbed.
The steering is light, with a tight turning radius. The 3.5L V6 in our test car delivered lively acceleration.

Pros: Roomy, practical interior, handling, smooth ride, tight turning radius, comfortable second-row bucket seats, third-row seat folds into the floor, cargo space, available AWD

Cons: Expensive compared to other minivans, no spare tire in some models, run-flat tires wear fast and expensive to replace.

Overall: Although not without flaws, the Sienna offers a roomy interior, solid, reliable powertrain and comfortable driving experience. As of February 2020, Consumer Reports rates only the 2005 and 2010 Sienna 'above average' for reliability. Other model years of this generation are rated 'average'.
---
You might also be interested:
Resources:
Safety Recalls - NHTSA - check for recalls.
Transport Canada - Motor Vehicle Safety Recalls - check for recalls in Canada.
Toyota Owners - maintenance schedules, electronic owner's manual and how-to videos.