Honda Odyssey 2005-2010: common problems and fixes, fuel economy, driving experience, photos
Updated: April 30, 2018
The Odyssey has front-wheel drive and is available in seven or eight-passenger configurations. It has a strong V6 engine and handles like a large car.

The second-row captains chairs can be positioned together (bench style) or separately. In the eight-seat configurations, an additional small removable seat is installed between them.

If you need to haul large cargo items, the second-row seats can be removed and the third-row seat can be folded into the storage well behind it. Available features include power adjustable pedals, power tailgate, navigation, rearview camera, parking sensors and rear DVD. The Odyssey is one of the best minivans on the market, but there are some problems used car buyers should watch out for. Read more below.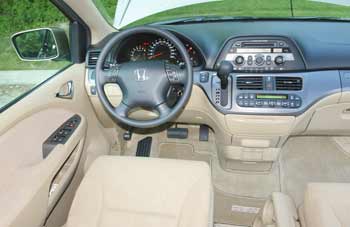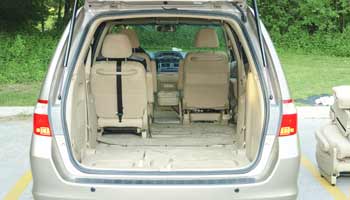 The third-row seats folds down into the floor and the second-row seats can be removed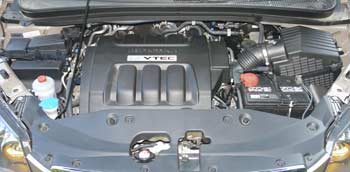 Honda Odyssey comes with the 3.5L V6 SOHC engine
Engine: The Odyssey comes with a 244-hp 3.5L SOHC V6, model J35A6. The EX-L and Touring models come with the modified V6 J35A7 engine with Variable Cylinder Management (VCM), system that disables three of the six engine cylinders during cruising and deceleration to improve fuel economy. Both these engines have a timing belt that needs to be replaced as a part of regular maintenance, read more below. Overall, it's a good engine, but lack of regular oil changes or driving low on oil can cause problems. The VCM engines are known to burn oil; it's important to keep the oil level topped up.

Fuel Economy: The 2010 Odyssey is rated at 16/23 mpg (14.7/10.2 L/100 km) city/highway. The VCM-equipped 2005, 2006 EX-L and Touring models get 17/26 mpg (13.8/9.0 L/100km). Among minivans, only Mazda 5 gets better gas mileage (21/27 mpg), but Mazda 5 is a much smaller vehicle.

Safety: Disc brakes are standard on all four wheels. Anti-lock brakes, stability control, side and side curtain airbags are standard on all models. In the NHTSA crash tests, the 2005-2010 Honda Odyssey received five stars in both, frontal and side-impact crash tests.

Handling and Ride: The Odyssey handles well, almost like a car. The ride is firm, but comfortable. The steering is very responsive and precise. The 3.5L V6 engine is smooth and strong.

Pros: Space, upscale interior, strong V6 engine, excellent handling for a minivan, removable second-row seats, crash-test ratings.

Cons: The low front end is easy to scrape, timing belt need to be replaced, problems with VCM engines, power sliding doors.

Timing belt: The V6 3.5L engine has a timing belt. When should it be replaced? Honda doesn't offer a mileage-based maintenance schedule. Instead, Honda vehicles are equipped with Maintenance Minder that shows when and what type of the service should be done. A timing belt and water pump should be replaced at the Maintenance Minder type 4 service, which according to some Honda owners, shows up soon after 100k miles mark. However, if you regularly drive in very hot or very cold temperatures, Honda recommends replacing the timing belt at 60,000 miles (100,000 km). The condition of a timing belt can be visually inspected. To do this, mechanics remove the top timing belt cover. Replacing a timing belt and water pump costs $800-$1200.

Related reviews:
Honda Odyssey problems: Various issues with power sliding doors are often reported. A door motor and other parts may need to be replaced. Some cheaper aftermarket parts (rollers/hinges) are available. See several Youtube videos describing the problem and various fixes.
Water leaks are also not uncommon, some owners report water getting inside the taillights. See few videos how to replace taillights.
Many owners reported replacing one or several engine mounts (up to $1500 for all mounts).
Problems with a power steering pump or power steering fluid leaks can cause lack of steering assist and a buzzing, humming or whining noise when turning the wheels. Honda issued a warranty extension on the power steering pump. If out of warranty, power steering pump replacement can run up to $650-$900. It's important to keep the steering fluid level topped up. The level can be checked visually in the power steering fluid reservoir under the hood.
Some Odyssey owners reported that a bad A/C compressor relay or the A/C compressor itself can cause the A/C not to work. The A/C compressor relay is cheap and very easy to replace. Replacing the compressor clutch costs $450-$500. The A/C compressor replacement is more expensive ($850-$1000). The A/C condenser can also be damaged by rocks, as it's visible through the lower bumper grille. Replacing the A/C condenser can cost up to $900. Cheaper aftermarket parts are available.
An alternator can fail. The symptom of a failed alternator is the red battery warning light on the instrument panel staying on. Replacing the alternator cost $500-$700 with an aftermarket unit.
Honda did a safety recall on VSA Modulator-Control Unit in some Odyssey models. A problem with the unit can cause the brakes to feel spongy, due to air in the system. You can check for recalls at the NHTSA website; you will need to enter the VIN number of your vehicle.

What to look for when buying a used Honda Odyssey: When checking the vehicle on the dealer's lot, watch out for any warning lights on the dash. Check both sliding doors. Watch out for the whining noise from the power steering pump or low power steering fluid level in the power steering fluid reservoir under the hood. Make sure to test the air conditioner. Test all the A/C and heater features including the rear passenger controls. See if the power tailgate works and closes properly. Read more used car inspection tips here: How to inspect a used car. It's a good idea to check with a Honda dealer to see if all the recalls and service campaigns have been completed.

You might also be interested:
2007 Honda Odyssey specifications
Dimensions:
Overall length:
Wheelbase:
Overall width:
Overall height:
-without roof rails:
-with roof rails


201.0 in (5105 mm)
118.1 in (3000 mm)
77.1 in (1960 mm)

68.8 in (1749 mm)
70.0 in (1779 mm)


Seating capacity:


7/8


Cargo capacity:
Behind 3rd row
Behind 2nd row
Behind 1st row


38.4 cu. ft (1087 L)
91.1 cu. ft (2579 L)
147.4 cu. ft (4173 L)


Towing Capacity:


3500 lbs. (1587 kg) /additional equipment required/


Engines:
LX, EX:


EX-L, Touring:




3.5-liter SOHC 24-valve VTEC Aluminum-Alloy V6
244 hp @ 5,750 rpm, 240 lb-ft @ 5,000 rpm

3.5-liter SOHC 24-valve i-VTEC Aluminum-Alloy V6
with Variable Cylinder Management
244 hp @ 5,750 rpm, 240 lb-ft @ 4,500 rpm


Recommended Fuel:


Regular Unleaded


Fuel Tank Capacity:


21.0 US gallons (79.5 liters)


Engine oil change capacity:


including filter: 4.5 US qt (4.3 L)