What to look for when buying a used Mitsubishi Lancer
Updated August 16, 2013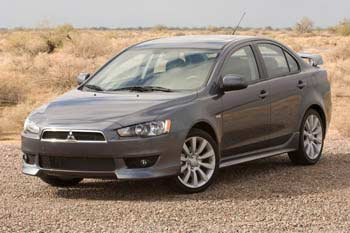 2009 Mitsubishi Lancer GTS. Photo: Mitsubishi
The Lancer is one of the most sporty looking compacts, thanks to the image created by its rally sibling - Lancer Evolution. But does it really stack up to its reputation? Is it a good car to buy used? To find out, we took it for a test drive.

Lineup: The 2008 Lancer was only available as a front-wheel drive sedan offered in budget-minded DE, mid-line ES and sporty GTS trim levels. The hatchback (Sportback) model joined the lineup for 2010.

The 291-hp Mitsubishi Lancer Evolution model is known to every teenager, but you can only find a very few of them for sale on the used car market. A more affordable performer, the 237-hp AWD Lancer Ralliart was added for 2009, but they are also rare and expensive (neither of the two is covered in this review).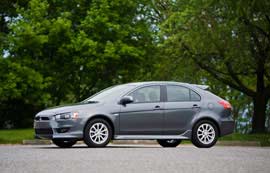 2011 Mitsubishi Lancer Sportback.
Photo: Mitsubishi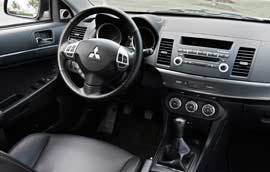 2011 Mitsubishi Lancer Sportback.
Photo: Mitsubishi
Mechanical: The base engine in the 2008-2013 Lancer is the 2.0L DOHC MIVEC 4-cylinder (MIVEC = variable timing) engine rated at 152 horsepower (later changed to 148). A stronger 168-hp 2.4-liter motor was added for 2009. Transmission choices include a 5-speed manual or a continuously variable transmission (CVT).

Fuel Economy: The 2009 Mitsubishi Lancer with a 2.0L engine and a continuously variable transmission is rated at 22/28 mpg city/hwy (10.7/8.4 liters per 100 km). It's not too bad, but well behind class leaders, for example, 2009 Honda Civic, which is rated at 25/35 mpg (9.4/6.5 L/100 km). Partially it's because the Lancer is heavier: the 2009 Lancer SE with a continuously variable transmission weights 3,021 lbs. vs. 2,754 lbs. of the 2009 Honda Civic LX-S with automatic. The 2.4L Lancer with the CVT gets 21 mpg city and 27 mpg on the highway.

Inside: The Lancer is roomy, but you won't find it as exciting as on the outside. The dash looks clean with sporty gauges and strangely-shaped audio control knobs, but the quality of some of the interior plastic could be better.

Front seats are supportive, but the steering wheel doesn't telescope. The visibility is good although the front pillars feel a bit too thick, especially when turning left. Rear seat space is average for a small car; tall passengers will find the rear headroom tight. The trunk is large and the rear seatbacks fold down.

Handling: The Lancer handles sporty and holds the road well. The ride is on the firm side. The 2.0L motor is strong enough for daily driving, but is quite noisy, especially on acceleration. It also feels a bit sluggish when taking off from a stop, partially because of the CVT, which is a type of automatic transmission.
Pros: Styling, supportive front seats, sporty handling, available as a hatchback, not too many problems.

Cons: Gas mileage, acceleration with CVT, interior plastic, rear headroom, paint quality.


Similar cars:
Overall: Is a used Mitsubishi Lancer a good car to buy? Mechanically the Lancer is very well built, although it doesn't stand out in any other way; it's certainly not a race car like the Evo. Even with a 2.0L engine, the fuel economy is just about average for its class. However, if the Lancer appeals to you, we don't see any major reason not to buy it.

Safety: Antilock brakes were optional in early DE models, standard on others. Side- and side-curtain air bags, as well as a driver's knee air bag were standard. The 2008-2010 Lancer received five stars for the driver and four stars for the front passenger in the NHTSA frontal crash tests. Starting with 2011 models, NHTSA has introduced tougher tests, where the 2012 Lancer was rated with four stars for both the driver and the front passenger.

Continuously-variable transmission: The CVT is based on two pulleys connected with a steel belt. The pulleys can change in size, varying the gear ratio gradually without shifts. The main benefit of the CVT is that the engine RPMs remain in the most efficient range and there is no loss of momentum on shifting.
Read more: Pros and cons of buying a car with a CVT transmission.
Is a CVT transmission reliable?

What to look for when buying a used Lancer: Opting for a second-hand car, you might have a question how reliable the Lancer is. This far, there are not that many problems reported to form a trend, although there are complaints about brake noises, the paint that scratches or chips easily and some rusty spots. In models with a rear spoiler, look for rust on the trunk lid under the spoiler, as it seems to be the trouble area. Watch out for oil leaks; there are a few reports about oil leaks from the engine. During the test drive, see if the car drives straight and doesn't pull to one side or another. Watch out for vibrations and noises; a whining noise at higher speeds could be caused by CVT issues. There are reports about the CVT producing a whining noise, mostly in the 2008 model. Read more what to look for in a used car.

A new Lancer is covered by the 10 years or 100,000 miles (160,000 km) powertrain (engine and transmission) warranty, which is great for new car buyers. However, used car buyers might not be as lucky, because the powertrain warranty coverage for subsequent owners is different. For the 2011 Lancer, for example, it's listed at 5 years 60,000 miles. Read more details at the US Mitsubishi website warranty information page.
Guides for used car buyers:
Resources:
Safety Recalls - NHTSA - check for recalls.
Transport Canada - Motor Vehicle Safety Recalls - check for recalls in Canada.
US owners site - manuals, how-to videos, Fans, warranties.
Maintenance Schedule - recommended service schedule
You might also be interested:
2012 Mitsubishi Lancer sedan specifications
Dimensions:
Overall length:
Overall width:
Overall height:
Wheelbase:


180.0 in. (4,570 mm.)
69.4 in. (1760 mm.)
58.3 in. (1,480 mm.) /DE, ES, SE/
103.7 in. (2,635 mm.)


Curb weight:


2932 lbs. /ES with CVT/


Cargo volume:


12.3 cu. ft.


Turning circle:


32.8 ft. (10.0 m.)


Engine:
DE, ES:




SE, GT:



4-cylinder 2.0L DOHC, 16-valve, MIVEC,
model 4B11
148 hp @ 6000 rpm
145 lb-ft @ 4200 rpm

4-cylinder 2.4L DOHC, 16-valve, MIVEC,
model 4B12
168 hp @ 6000 rpm
167 lb-ft @ 4100 rpm


EPA Fuel Economy* (US mpg, L/100 km):
2.0 manual:


2.0L automatic:


2.4L manual:


2.4L automatic:



city: 25 mpg (9.4 L/100 km)
hwy: 34 mpg (6.9 L/100 km)

city: 26 mpg (9.0 L/100 km)
hwy: 34 mpg (6.9 L/100 km)

city: 22 mpg (10.7 L/100 km)
hwy: 31 mpg (7.6 L/100 km)

city: 23 mpg (10.2 L/100 km)
hwy: 30 mpg (7.8 L/100 km)
Recommended Fuel:


Unleaded gasoline (87 octane) /DE, ES, SE, GT/


Fuel tank capacity:
DE, ES, GT:
SE:


15.5 US gallons (69 liters)
14.5 US gallons (55 liters)


Engine oil capacity:
DE, ES 2.0L engine:
SE, GT 2.4L engine:


4.2 US qt (4.0 liters)
4.5 US qt (4.3 liters)


* subject to change