Volkswagen Jetta TDI 2011-2016: engine, fuel economy, driving experience, photos
Updated: October 13, 2019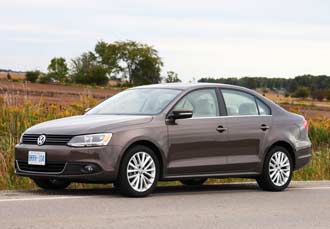 2012 Volkswagen Jetta TDI
This classy German compact sedan offers a spacious interior, excellent handling and the best-in-class highway fuel economy. This makes it one of the best cars for long commutes. Inside, the Jetta is stylish and functional. Front seats are firm, but supportive and comfortable on long trips. The steering tilts and telescopes. The driver's seat height is adjustable, so you can easily find the comfortable driving position. The 140-hp 4-cylinder turbo-diesel is very torquey and offers plenty of passing power. Is the Jetta TDI reliable? Isn't the Diesel engine noisy? How easy is it to find diesel fuel? We'll try answering these questions in this review.


Diesel noise, smell and smoke: The turbo-diesel engine is a bit noisy when started cold, but once warmed up, you can only hear a little diesel clatter at idle; when driving, it's pretty quiet. The exhaust smell and smoke were common in old diesel cars, however, with the introduction of Ultra-Low Sulfur Diesel (ULSD) fuels in 2006 and new diesel emission control systems, it's all in the past. Even when we were backing up the Jetta TDI into a
one-car garage, we could not notice any exhaust smell at all. There is no visible smoke on acceleration either.

Diesel fuel: The Jetta TDI requires Ultra-Low Sulfur Diesel (ULSD), which is a clean burning diesel fuel. There shouldn't be a problem finding a fuel station selling ULSD fuel in the U.S. or Canada, unless you are very far from major highways. Check more information about Ultra-Low Sulfur Diesel at the EPA website or at ULSD FAQs - Clean Diesel Fuel Alliance website.
Fuel Economy: the 2012 Jetta TDI is rated at 30/42 mpg city/highway (7.8/5.6 L/100 km). The EPA estimates that you can drive the Jetta TDI for up to 509 miles on one tank (80 percent highway, 20 percent city), however on various forums, many Jetta TDI owners report getting more than 600 miles to a tank.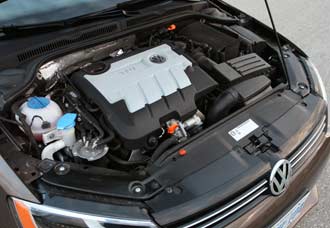 The 2.0L TDI engine

Engine: This 6-the generation Jetta comes with the 140-hp 2.0L DOHC 16-valve 4-cylinder TDI turbodiesel. Unlike the previous generation, this engine is a Common Rail diesel, meaning that all fuel injectors are connected to the same high-pressure fuel rail. The high-pressure single-piston fuel pump is driven by a timing belt, similarly to the Mk4 1.9L TDI. See the photo of the TDI engine with the cover removed. The fuel injectors are controlled electronically. Overall, it's one of the best diesel engines on the market. Consumer Reports rates this engine 'better than average'.

Handling and ride: The Jetta handles well, with good grip in turns. The steering is responsive and precise; the car holds a straight line well. The ride is Euro-firm, but still comfortable. The cabin is well insulated from the wind and road noise. With 236 foot-pound of torque, the 2.0L turbodiesel pulls easily, whether from a stop or when merging or passing on the highway. The only downside is that when driving at slow speeds, the DSG transmission is not very smooth, as it's essentially a computer-controlled manual gearbox.


NHTSA Crash Tests
Overall
Frontal
Crash
Side
Crash
Rollover
2011 Jetta
2012 Jetta
2013 Jetta
2014 Jetta
2015 Jetta
Pros: diesel models hold value well, highway fuel economy, highway passing power, good handling, clean classy styling, spacious interior with plenty of rear-seat space, comfortable front seats, decent size trunk, crash test ratings.

Cons: price, interior materials could be better, the TDI diesel engine needs more maintenance, complex diesel emission control system, the engine is a bit noisy when cold, the DSG transmission is not very smooth at low speeds.

Reliability: As of October 2019, Consumer Reports rates the 2015 and 2016 Jetta 'above average' while earlier models got 'average' or 'below average' marks for the reliability. There are quite a few complaints about fuel pump failures.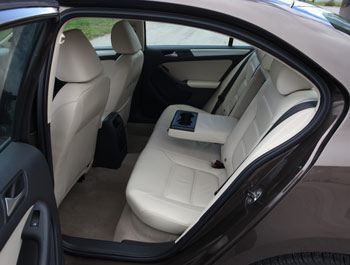 The Jetta offers class-leading 38.1 inch of legroom in the back.
Reported problems include "Check Engine" light issues, squeaks and rattles, electrical problems. Regarding the Volkswagen Emissions recall, we found a good article from above-mentioned Consumer Reports that explains the 'Dieselgate' in details. Check the NHTSA website for outstanding recalls.

Overall: Yes, the Jetta TDI is not the most reliable car and it will have some problems, but it handles well and the highway fuel economy is great. There are several YouTube videos where people report even better mileage than the EPA rating.

Similar cars:
2015 Jetta TDI update: For 2015, the Jetta TDI has received minor styling and interior updates, a few more available safety features (blind spot detection, rear cross-traffic alert and frontal collision warning) and better fuel economy.
The engine and emission systems have been upgraded too. The 2015 Jetta TDI auto is now rated at 31/45 mpg. It's almost as good as hybrids.

Maintenance: For the TDI, use only good-quality ULSD fuel. As with any turbo engine, don't shut it off right after spirited driving or after climbing a long uphill stretch of the road; let it idle for a while to cool down the turbocharger. Volkswagen recommends using high-quality synthetic engine oil. If you want your engine to last longer, change your oil more often than the recommended 10K miles / 15K kilometers interval. The diesel fuel filter should be changed every 20,000 miles or 30,000 km. The DSG transmission fluid and filter should be changed every 40,000 miles or 60,000 km. The timing belt in the 2.0L TDI engine needs to be replaced at 120,000 miles (195,000 km). You can check the U.S. maintenance schedule for different models here.


You might also be interested:
Photos: 2012 Volkswagen Jetta TDI
2012 Volkswagen Jetta TDI specifications (US model)
Dimensions:
Overall length:
Overall width:
Overall height:
Wheelbase:


182.2 in (4,628 mm)
70.0 in (1,778 mm)
57.2 in (1,453 mm)
104.4 in (2,651 mm)


Turing circle:


36.4 ft (11.1 m)


Curb weight:


3,210 lb. 1,456 kg (Jetta 2.0L TDI automatic)


Cargo volume:


15.5 cu. ft.


Engine


2.0 TDI, in-line 4 cylinder, turbocharged
direct injection, common rail.
140 hp @ 4,000 rpm, 236 lb-ft @ 1,750-2,500 rpm
EPA Fuel Economy (US mpg, L/100 km):
2.0L TDI Diesel Manual:


2.0L TDI Diesel Automatic:




city: 30 mpg (7.8 L/100 km)
hwy: 42 mpg (5.6 L/100 km)

city: 30 mpg (7.8 L/100 km)
hwy: 42 mpg (5.6 L/100 km)



Recommended Fuel:
Ultra Low Sulphur Diesel (ULSD)


Fuel Tank Capacity:


14.5 US gal (55 liters)


By Samarins.com Staff
---