Toyota FJ Cruiser 2007-14 4WD system, mechanical, driving experience, photos, specs
Updated: July, 2016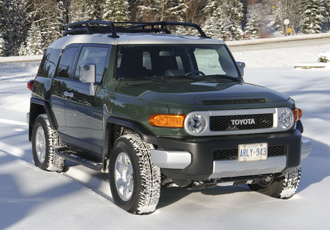 Toyota FJ Cruiser
Nothing on the road looks like the FJ, especially in Magma red, Sun Fusion yellow or Army Green colors. Just looking at this truck makes you want to pack it up with camping gear and drive somewhere far.
Styled after the legendary Land Cruiser FJ40 from the 60s and 70s, the 2007-2014 Toyota FJ Cruiser is a truck-based SUV with a short wheelbase and wide track. Inside the FJ Cruiser offers rugged styling, washable floors and easy to clean waterproof seats. The instruments are simple and easy to read. You won't have troubles using the heater controls even wearing thick gloves - the control knobs are really large. The FJ has an advanced 4WD system with the low-range gearing, and is a capable off-roader. Is it a good choice to buy used? Will it hold its value? Is it reliable? Read our review to find out.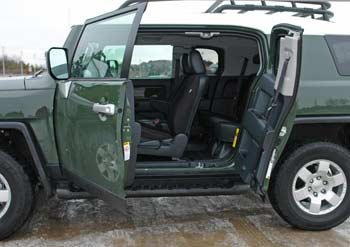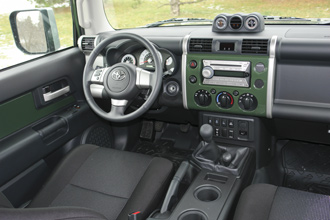 Toyota FJ Cruiser interior
Fuel Economy: The 2008-2009 4WD automatic FJ Cruiser is rated at 16/20 mpg (14.7/11.8 L/100 km) city/highway on premium gasoline. The 2010-2011 FJ 4WD auto gets 17/21 mpg (13.8/11.2 L/100 km) on regular gasoline. The 2012-2013 4WD automatic model returns 17/20 mpg (13.8/11.8 L/100 km) on regular gasoline.

Interior: The driver's seat is comfortable, even on long trips. An elevated seating position provides good visibility in the front, however, side and rear view is obstructed by wide pillars and the spare tire. Having large side-mirrors helps, but changing lanes and backing up is a bit of challenge. The optional backup camera built within the rearview mirror was very helpful during our test-drive.

Mechanical: Toyota FJ Cruiser is based on the Land Cruiser Prado body-on-frame platform with the independent front suspension and solid axle with coil springs in the back. The FJ Cruiser is available as 2WD or 4WD (only 4WD in Canada). The 2WD models were only available with a 5-speed automatic transmission. The 4WD FJ Cruiser comes with a five-speed automatic or six-speed manual. Disc brakes are on all four wheels.
The only engine choice is the 239-hp 4.0L DOHC V6 (upgraded to 259 hp for 2010). This engine has a timing chain instead of a belt. A timing chain doesn't need to be replaced unless there is a problem with it. Overall, this is a strong solid engine.

4WD System: In manual-transmission models, the transfer case uses a Torsen (Torque-Sensing) limited-slip center differential with a locking feature and distributes the engine power 40:60 under most driving conditions. The Torsen differential varies power distribution between the front and rear axles as needed for better traction. The automatic 4x4 FJ Cruiser employs a part-time four-wheel drive system. A locking rear differential is available.

Handling and ride: On the road, the FJ Cruiser drives better than you'd expect from such a tall truck. The ride is soft. We test-drove the FJ during a snow storm, so we had a good chance to test some of the features. We found that the ABS and Stability Control were very helpful to keep the truck from sliding. We took the FJ Cruiser on some snowy back roads and the truck glided easily through two feet deep snow. The FJ Cruiser's suspension absorbs bumps well; it's fairly quiet inside the cabin except for a nice-sounding exhaust tone.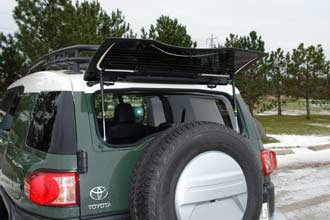 2010 Toyota FJ Cruiser. Liftgate glass opens separately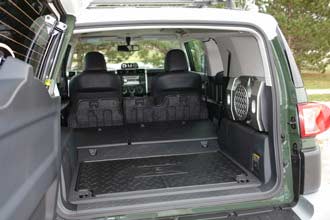 2010 Toyota FJ Cruiser cargo area
Safety: Available safety features include Antilock Brake System (ABS), Vehicle Stability Control (VSC) and Traction Control (TRAC). Side airbags and side curtain airbags were optional on early models; standard from 2008. The 2007-2010 FJ Cruiser received five stars for the driver and four stars for the front passenger in the NHTSA frontal crash tests. In the side-impact crash tests, the 2007-2010 FJ Cruiser scored five stars for the front seat and five stars for the rear seat passenger protection.

Pros: Off-road capability, original design and colors, comfortable ride, easy to clean interior, strong resale value, available sturdy roof rack, optional 115V power outlet, rear gate glass opens separately.

Cons: Rear visibility, rear seat access and comfort, rear seats don't fold flat, early models require premium gasoline.

Overall: The FJ Cruiser is a very unique truck. It's rated high in owner satisfaction, according to Consumer Reports. It is also very reliable and holds its value much better than many other SUVs. Overall, it's an excellent choice for a rugged off-roader that is also comfortable in daily driving.
What to look for when buying a used Toyota FJ Cruiser: Test drive it for as long as you can. It's a very unique vehicle, you want to see if you are comfortable with the visibility and other aspects. If you are looking for an early model, consider installing an aftermarket back-up camera. We recommend looking for the 2009 or newer model. This forum describes some common problems.
For models with a manual transmission, check the clutch operation. If the "Check Engine" or any other warning light stays on after the engine is started, there is a problem. Watch out for signs that the truck has been abused during off-roading. During the test drive, watch out for a humming noise coming from the wheels; it could be caused by cupped tires or bad wheel bearings. Check for recalls: Safety Recalls - NHTSA or Transport Canada - Motor Vehicle Safety Recalls.
Guides for used car buyers:
Maintenance: Rust proofing helps protecting the chassis and other components from corrosion, especially if you live where the salt use is common in winter months. If you do your oil changes regularly and use good quality oil, your engine will be in good shape longer. There is a number of components that also need regular fluid changes or service: front and rear differential, transfer case, transmission, drive shafts, etc. To keep it safe, bring your truck to your mechanic for a regular mechanical inspection at least once a year. You can find the electronic version of an owner's manual, maintenance schedule and how-to videos at the US Toyota Owners website.
You might also be interested:
Resources:
Safety Recalls - NHTSA - check for recalls.
Transport Canada - Motor Vehicle Safety Recalls - check for recalls in Canada.
Toyota Owners - maintenance schedules, electronic owner's manual and how-to videos.

2010 Toyota FJ Cruiser short specifications
Dimensions:
Overall length:
Overall width:
Overall height:

Wheelbase:
Track:

Turning circle:
Ground Clearance:
Approach Angle:
Departure Angle:


4670 mm (183.9 in)
1905 mm (75 in)
1830 mm (72 in) /without roof rack/
2007 mm (79 in) /with roof rack/
2690 mm (105.9 in)
1605 mm (63.2 in)/front/
1605 mm (63.2 in)/rear/
12.7 m (41.7 ft)
245 mm (9.6 in) /4WD model/
34 degrees
31 degrees


Seating Capacity:


5


Towing Capacity:


2268 kg (5000 lb.)


Cargo Capacity:



66.8 cu. ft - behind front seats
27.9 cu. ft - behind rear seats


Engine:
4.0 L, V6, DOHC, 24-Valve, Dual VVT-i
259 hp @ 5600 rpm, 270 lb. ft. @ 4400 rpm


EPA Est. Fuel Economy:

4WD with manual transmission:


4WD with automatic transmission:




city: 15.7 L/100 km (15 US mpg)
hwy: 12.4 L/100 km (19 US mpg)

city: 13.8 L/100 km (17 US mpg)
hwy: 11.2 L/100 km (21 US mpg)


Recommended Fuel:
Regular unleaded


Fuel Tank Capacity:


72 liter (19 US gal)


Engine oil capacity:
Engine Oil with Filter Change (Drain & Refill)

6.4 US qt. (6.1L)