Used BMW 3-series 2006-2011 review
Common problems: Electronic steering lock is one of the trouble areas mostly in the 2006 and some 2007 models. Initially the yellow or red steering lock warning light might come on and the steering lock can take some time to unlock intermittently. Eventually the lock mechanism may fail completely, preventing the car from starting. The BMW recommended repair involves replacement of the steering column, which could be costly ($1,200-$1,500). Plenty of repair information is available online. Some owners report that reprogramming solved the issue. Try googling ELV E90 repair.

Faulty exhaust side hydraulic valve lifters (HVA) can cause a ticking noise after the engine is warmed up in some 2006-2008 models with the N52 engine. Some owners report the noise temporarily disappeared after a long highway drive or switching to different type of engine oil. As per one of the BMW service bulletins (SIB), the 12 exhaust side lifters must be replaced with updated parts ($1,200-$2,000 repair). In some cases the cylinder head also had to be replaced to completely resolve the problem. This post provides some more info. Some owners choose to live with the problem rather than spend money on repairs.

A failed electric water pump can cause overheating. Another symptom could be the radiator fan staying on at high speed for a long time. This repair should be done as soon as possible, as overheating can cause more engine problems down the road. Usually a thermostat is recommended to be replaced along with the water pump. The repair could cost from $800 for a water pump only to $1200-$1800 with the thermostat.

Oil leaks are very common. The most common reported source is the valve cover gasket ($550-700), and the oil filter housing gasket ($370-$600). Transmission pan and the connector sleeve may leak too.

A failed ignition coil may cause the engine to misfire and run rough. Ignition coil replacement is not very expensive. If the spark plugs haven't been replaced in a while, it might be a good idea to replace the spark plugs too.

In the N54 engine, the high pressure fuel pump is a commonly-mentioned problem. The symptoms include long starting time (long crank), reduced engine power and Service Engine Soon light. However there was a recall in 2010 and according to some sources, the warranty has been extended. Read this post. This page at BMW USA website allows you to check for recalls. Issues with turbochargers and wastegates are mentioned frequently.

Sticky door handles are often mentioned. Some owners report that sticky door handles can be resolved by lubricating them. See this video.

A failing blower fan motor can produce a squeaking noise. Some owners were able to get rid of the problem by lubricating the motor bearings, (see this post) but in many cases the heater fan motor had to be replaced ($550-650). It's not a very difficult job. Here is the thread at E90post.com

A blown fuse can cause the power lock function to stop working, although in many cases, it could be caused by a failing door lock actuator that will need to be replaced. Read this thread for more info.

Other issues include faulty VANOS solenoids, leaking headlight washer jets, cracked rubber cooling system hoses and suspension bushings, faulty window regulators.

What to look for when buying a used BMW 3-series:
Check the service history if available. Has the steering column already been replaced? Any repairs with hydraulic valve lifters? Were the oil changes done regularly? Was the car severely overheated (Avoid!).
When inspecting the car on the lot: Any signs of an accident repairs? Do all the door handles, locks, windows, wipers work? Any warning lights? Any warning light has to be properly diagnosed and repaired before purchase, not just reset.
Is there burnt oil smell in the engine compartment (this is usually a sign of oil leaks).
During a test-drive: In the N52, the ticking noise at idle could be caused by a faulty lifter. In the N54, watch out for turbocharger and wastegate rattle. There are several Youtube videos that demonstrate various types of noises. Test the manual shift mode of the automatic transmission, some owners report a problem with the tranny that prevents it from going into manual shift. Read more: How to inspect and test drive a used car.
Before buying, have the car inspected by an independent BMW specialist or a dealer.

Guides for used car buyers:
3-stage intake upgrade for the 325/328: This thread at E90Post provides the summary. This post describes the upgrade process and the results. This upgrade won't be cheap and can probably void the warranty, but results are promising.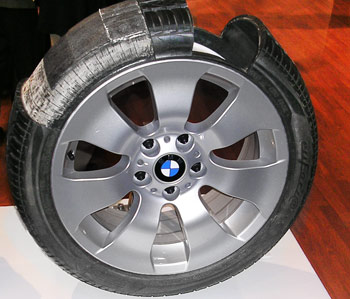 BMW Run-Flat tires
Run-flat tires vs conventional: The advantage of the Run-Flat tires is that they can be driven temporarily at limited speed even without pressure. However, cars equipped with run-flat tires have no spare tire. There is an ongoing debate on run-flat versus conventional tires, with many BMW owners complain about the rough and noisy ride and replacement cost of run-flats. Some owners chose to switch to conventional tires. This post describes a clever way to store the spare tire and the jack in the trunk. The run-flat tires can be recognized by a snail-like symbol.

Maintenance: According to the 2008 3-series owner's manual, the 3-series requires High Performance Synthetic Oil; 5W-30 or 5W-40, depending on climatic conditions. BMW doesn't specify oil change intervals, instead, the Condition Based Service (CBS) shows current and future maintenance requirements on the Service Interval Display. There is a disagreement about whether to stick to CBS oil change intervals (around 15,000 miles for E90) or have the oil changes done more often. Some owners prefer changing oil at 7,500-10,000 miles, which seems more reasonable at higher mileage, especially considering that 2014 and newer BMW switched to 10,000-mile CBS intervals. In the N54 as in any turbocharged engine, oil is subjected to higher temperatures and degrades even faster.
BMW engines are known for oil consumption, which means the oil may need to be topped up once in a while. For this reason, it might be a good idea to keep a spare bottle of engine oil in the car.

BMW USA Owners - download an electronic copy of the owner's manual, check for safety recalls (VIN - number required)
BMW Service and Warranty Books - download Service and Warranty guide. It includes maintenance requirements for items not covered in CBS (spark plugs, oxygen sensor, automatic transmission fluid, etc.)

You might also be interested:
2008 3-series sedan short specifications
Dimensions:
Overall length:
Wheelbase:
Overall width:
Overall height:


178.2 in (4,526 mm)
108.7 in (2,760 mm)
79.3 in (2,013 mm)
55.9 in (1,421 mm)


Turning circle:
Rear-wheel drive models:
All-wheel drive models:


36.1 ft
38.7 ft


Seating capacity:


5


Cargo capacity:


12.0 cu. ft


Engines:
323i (Canada):



328i:



335i:


2.5-liter DOHC, 24-valve inline 6-cylinder N52,
Double VANOS, Valvetronic variable intake-valve lift
200 hp @ 6,000 rpm, 180 lb-ft @ 4,000 rpm

3.0-liter DOHC, 24-valve inline 6-cylinder N52,
Double VANOS, Valvetronic variable intake-valve lift
230 hp @ 6,500 rpm, 200 lb-ft @ 2,750 rpm

3.0-liter DOHC, 24-valve inline 6-cylinder N54,
Double VANOS, direct injection, twin-turbo.
300 hp @ 5,800 rpm, 300 lb-ft @ 1,400-5,000 rpm

Recommended Fuel:


Premium Unleaded


Fuel Tank Capacity:


16.1 US gallons (61 liters)