Nissan Altima 2013-2018: problems, fuel economy, pros and cons, photos
February 23, 2020
The Nissan Altima is one of the most fuel efficient family sedans. It has front wheel drive and comes with a 4-cylinder or V6 engine. Either engine is paired to a continuously variable transmission or CVT.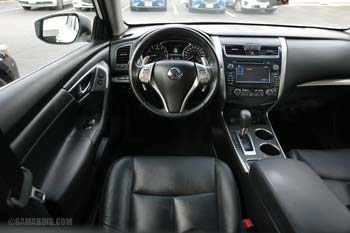 Nissan Altima interior.
The advantage of the CVT is better fuel economy compared to that of a conventional automatic transmission. The Altima coupe was only offered for 2013 and discontinued after. There is no hybrid version for this Altima generation.

The Altima handles well and has a fairly quiet and comfortable ride. The interior is stylish and practical. The list of available features includes Bluetooth, rear-view camera and a remote engine start. The 2013-2018 Altima sedan received a perfect 5-star overall rating in government crash tests. Advanced safety features such as Forward Collision Warning (PFCW) and Intelligent Cruise Control (ICC) are available from 2016. Is it a good car to buy? What are the reported problems?

Nissan Altima problems: A bad wheel bearing can cause a humming noise that becomes more noticeable when driving on the highway. Replacing a wheel bearing costs from $350 to $550.

We found a number of complaints for the 2013 Altima where the shifter occasionally won't shift out of park. Some owners reported that the repair involved replacing the shifter assembly; the repair could cost up to $800. See this Youtube video from the Nissan Owner Channel on how to release the shift lock manually.

An inner door handle can break. Replacing the door handle is fairly easy and not very expensive. See these YouTube videos.
Problems with the CVT transmission have been reported by many owners of the 2013 and 2014 Altima. The later years are better, but CVT issues are still one of the top complaints at the NHTSA website. Replacing the CVT transmission out of warranty is expensive (up to $4,000-$5,000). With that in mind, used car buyers should consider getting a good extended warranty for the powertrain. The service bulletin NTB15-102b for the 2013-2017 Altima mentions a whine or grind type noise during acceleration and/or constant highway speeds. Depending on the inspection results some parts of the CVT or the CVT assembly might need to be replaced.

There have been quite a few complaints about headlights being dim in earlier models. The headlights in the 2016 Altima we test drove were fine, but used car buyers should be aware of this potential issue.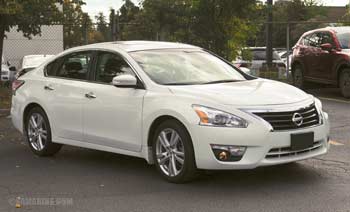 2016 Nissan Altima.
We've read through Altima owner's complaints and several owners mentioned that changing bulbs didn't fix the issue. We checked online prices; an OEM Nissan headlight assembly is priced between $220 and $280 (part only, for one side); aftermarket parts are cheaper.

Many owners have reported problems with the passenger occupant classification system. Nissan has issued a recall to address this problem. There have been several other recalls for the Altima, check at the NHTSA website.

Engines: The base engine is a 182-hp 2.5L inline-4, model QR25DE.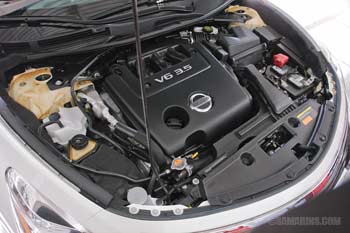 Nissan Altima 3.5L V6 engine.
It's a simple proven dual overhead cam (DOHC) motor that has been used in many Nissan models.
An optional 270-hp 3.5L V6, model VQ35DE is one of the best V6 engines on the market. It has also been widely used in various Nissan and Infiniti products. Both Altima engines are naturally-aspirated (non-turbo) and have a conventional multi-port fuel injection.

Timing belt or chain: Both the QR25 engine and VQ35 engine have a timing chain; there is no timing belt. The timing chain doesn't need to be replaced at regular intervals.


EPA Fuel Economy:
mpg
city/hwy
L/100 km
city/hwy
2016-2017 Altima sedan 4-cyl CVT
27/39
8.7/6.0
2013, 2018 Altima sedan 4-cyl CVT
27/38
8.7/6.2
2014-2015 Altima sedan 4-cyl CVT
27/37
8.7/6.4
2016-2018 Altima sedan SR 4-cyl auto
26/37
9.0/6.4
2013 Altima coupe 4-cyl auto
23/31
10.2/7.6
2017-2018 Altima sedan V6 auto
22/32
10.7/7.4
2014-2016 Altima sedan V6 auto
22/31
10.7/7.6
2013 Altima sedan V6 auto
22/30
10.7/7.8
Fuel Economy: The EPA rates the 2016-2017 Nissan Altima at 27/39 mpg city/highway, which makes it one of the leaders among non-hybrid family sedans. The 2016 4-cylinder Altima can travel up to 558 miles or 898 km on one tank of gas.

Mechanical: The Altima has MacPherson struts in the front and a multi-link layout in the rear suspension. All four wheels have disc brakes. Electronic Hydraulic Power-Assisted Steering (EHPS) uses an electric pump and a conventional hydraulically-assisted steering rack.

Handling and ride: The Altima drives well around the city and is smooth on the highway. The 2.5L engine is responsive and provides enough power for daily driving. The ride is on the firm side, but comfortable and fairly quiet.

Pros: Sporty looks, solid engines, fuel economy, good crash test ratings, comfortable seats, simple controls, easy to read gauges.

Cons: Rear seat headroom is a bit tight, no transmission choice other than the quirky CVT, a 4-cylinder is a bit noisy on acceleration, average reliability, doesn't hold its value as well as top family sedans.

Similar cars:
More guides:
Overall: Other than CVT transmission quirks, the Altima is a competent, fuel efficient family sedan. It's not a sports car but will get you from point A to point B in comfort. We think that the 2013 Altima should be avoided, as the 2013 model year has drawn the most complaints. Many complaints are about the CVT transmission; if it fails, out-of-warranty repairs will be expensive ($4,000-5,000). Considering this, a good extended warranty for the powertrain is a sensible idea. The CVT transmission is more suitable for a gentle driving style, as many transmission problems are caused by overheating.
As of February 2020, Consumer Reports rates the 2017 Altima 'above average' for reliability, while other model years of this generation are rated 'average'. The transmission is graded poorly in the 2013 and 2014 Altima. In the family sedan class, we recommend the 2014-plus Mazda 6, Toyota Camry, Lexus ES and Honda Accord. The Camry and the Accord hold their values better in the long run.


What to look for when buying a used Nissan Altima: If possible, check the service and used car history records to make sure the oil changes were done regularly and there were no previous accidents or other problems. When checking a used Nissan Altima, test all of the electrical accessories.
See if the heated seats, heated steering, air conditioner, sunroof and other features work properly. Avoid the car if you notice a smoke from the exhaust or abnormal noises from the engine. During the test drive, watch out for signs of possible transmission issues, such as: hesitation during gradual acceleration, temporary loss of power, shuddering, slipping, or jerking. Check out YouTube videos on CVT transmission problems to know what to watch out for. Whine or grind type noises when accelerating or driving on the highway indicate a problem.

If something doesn't feel right with the engine or transmission, avoid the car. Normally, the engine should be responsive and the CVT should feel smooth, whether accelerating, coasting or decelerating. Watch out for the warning lights staying on. See if the passenger seat occupancy indicator works properly. We strongly recommend having the used car properly inspected by a qualified mechanic familiar with Nissan products before buying. Read more: How to inspect a used car - illustrated guide.

Engine oil for 4-cylinder models: The owner's manuals for the U.S. 2013-2018 Nissan Altima list SAE 0W-20 as a recommended engine oil type for the QR25DE 4-cylinder engine. The listed oil capacity for the QR25DE is 4-7/8 qt or 4.6 liters (with oil filter). You can access the electronic version of the owners manual at Nissan USA website. By Samarins.com Staff
---