How to prepare your car for winter driving, winter emergency kit
Updated: October 05, 2019
Winter driving is very demanding and things like bad tires, worn out wipers or poorly working heating system can compromise your safety. Winter is also harsh on your car and the first freezing morning of the year will expose its hidden problems. Will the battery have enough capacity? Will the heating system work well? I drove through many winters and have many years of experience in the automotive industry, so I wanted to share a few tips.
Winter emergency kit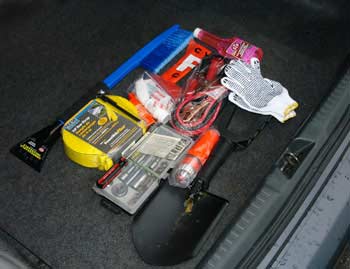 Basic winter road emergency kit
Winter weather is unpredictable, and you need to be prepared for any situation. Fill up your car before a snowstorm. Almost every winter we hear in the news about people who got stuck in their cars for many hours in a bad winter weather. It's a good idea to keep in your car a basic winter emergency kit, especially if you travel far. A winter emergency kit can include:
- Ice scraper
- Jumper cables
- Tow strap or cable
- Shovel
- Basic tool kit
- Warm clothing, blankets and footwear for each passenger
- Phone charger
- First aid kit
- Snacks or energy bars, water
- Traction mats
- Road flares
- Warning light or emergency sign
- Flashlight
- Sand or kitty litter
- Plus, matches in a waterproof container and a reflective vest.
Switch to winter windshield washer fluid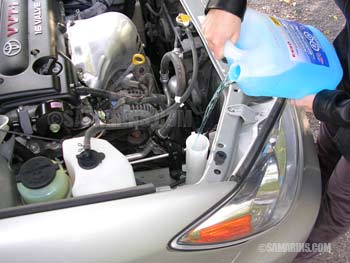 Switch to winter windshield washer fluid
One of the common complaints dealers and auto repair shops get the next day after the first cold snap is that the windshield washers are not working. Often, it turns out that the fluid is frozen in the bottle and in the pipes. This happens because some cars may still have summer windshield washer fluid in their washer fluid bottles, and it freezes in winter.

Summer fluid must be switched to a special winter washer fluid that won't freeze. The freezing temperature is printed on the bottle. If the windshield washer fluid did freeze, park your car in a warm garage and let the fluid melt. Then use it all up and fill up with the winter washer fluid.
Keep an extra bottle of windshield washer fluid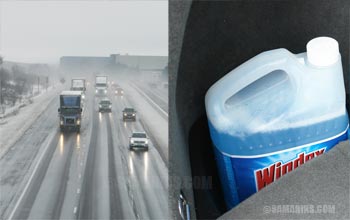 If you ever had to travel in slushy conditions like this, you know how quickly the windshield washer fluid runs out.
When the roads are slushy like this, drive safe, and keep an extra bottle of the winter windshield washer fluid. If you have to travel far, it runs out fast. You don't want to end up driving behind a truck on the highway with non-working washers.
Clean out the cabin air intake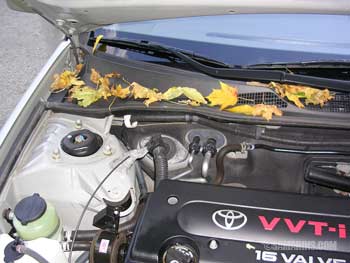 Leaves and other debris collecting under the windshield will cause dampness inside the car.
This area often gets neglected. The leaves that accumulated during the fall on the cowl panel need to be cleaned out. The air intake for the interior is located under this panel. Wet leaves can block the drains inside the cowl panel. They can also cause moisture and a damp smell inside the cabin. Moisture will cause the inside of the windows to fog up more.
Are your wipers in good shape?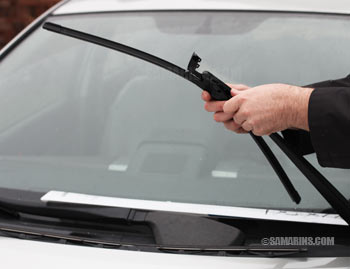 Your wipers need to be in top shape.
Wipers will have to work hard during winter, so it's important that they are in top shape. Many stores sell special winter wiper blades; you can compare their ratings on Amazon. If you switch to winter blades, keep the original blades in the car, because it's not uncommon for wiper blades to break during winter. See these YouTube videos on how to change wiper blades.


Before driving off in the morning, clean your windshield and other windows. Don't turn on the wipers right away, check first if the wiper blades are not frozen to the windshield. If the wipers are turned on when they are frozen to the windshield, the wiper motor or a relay can overheat and stop working.
Keep the windshield in front of the camera (sensor), as well as the radar sensor clean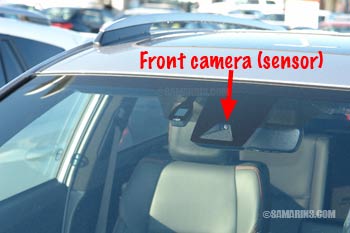 Check your owner's manual for info about the sensors that must be kept clean. This is a Toyota camera sensor.
If your car has a Lane Assist or Lane Departure Warning or Automatic Emergency Braking system chances are you have a forward sensing camera (sensor) in the windshield. Cars with Adaptive Cruise Control also have a radar sensor that is often installed in the front grille. Many modern vehicles have these sensors. If one of the sensors is dirty or blocked with snow, you may get a warning on the driver's display and the system might be disabled. Check the owner's manual to learn more about these sensors and about recommended care, and you may save yourself a trip to the dealer. Again, this is one of the common complaints dealers get after the first snow storm.
Clean the windshield and other windows from the inside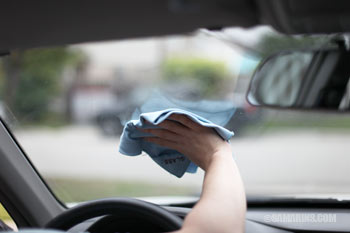 Clean the windows from the inside.
Good visibility is especially important in winter. Clean the windshield and other windows from the inside. A microfiber glass cleaning cloth like this one works well.
Winter floor mats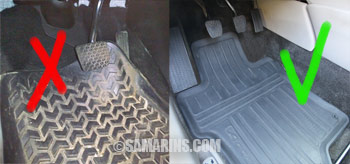 Winter floor mats must fit and be properly secured.
Winter floor mats trap water and salt and are easy to clean. If you want to install winter floor mats, invest a little more and get the proper ones. Winter floor mats must fit the vehicle and be properly installed and secured. An unsecured floor mat is a safety concern, as it can move and interfere with the pedals and cause an accident. Don't stack one floor mat on top of another. A winter floor mat should go in place of the carpet floor mat and be safely attached. Check your owner's manual for instructions. I always use OEM winter mats in my car.
How to prevent door seals from freezing
Protecting door seals.
To prevent rubber door seals from sticking in freezing weather, lubricate them with a special lubricant for rubber door seals. It might be called a 'weatherstrip lubricant' or 'rubber seal care'. Here, I use the spray from Würth called "Rubber Care".
Oil change and pre-winter checkup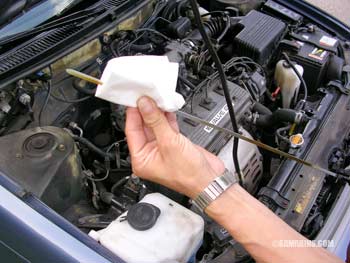 Check your engine oil regularly. You can find the directions in the owner's manual for your car.
It's a good idea to get the oil change and seasonal checkup done ahead of time. Closer to the end of October, all dealerships and auto repair shops in the northern US and Canada are starting to get busy installing winter tires. For them, it's a busy tire season. If you think that your car may need a tune-up or some other work beside an oil change, get it done earlier to beat the rush.

Several people I know do all the maintenance work in September and then come back just to get the winter tires done closer to the end of October.

Take your vehicle to your mechanic or local dealer for an oil change and have the car inspected.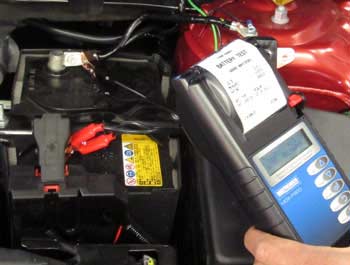 If your battery is older than 3-4 years, have it tested.
Visiting one of the quick drive-through oil change places will not be enough, since things like brakes, steering and suspension can only be inspected when the car is lifted on the hoist. Fresh engine oil, especially synthetic, will help your engine start easier in freezing weather. If your battery is older than 3-4 years, ask to do the battery test. It will show if the battery has enough capacity.

Vehicles with a diesel engine need special attention - a simple thing like water in the fuel filter or a bad heater plug could cause a lot of trouble on a cold day.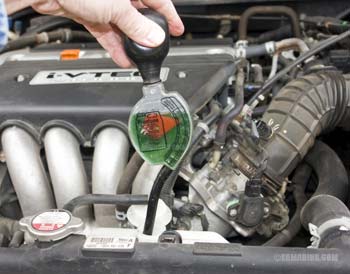 Mechanics use a special coolant tester tool (hydrometer) to check the coolant freezing point.


All fluids need to be checked and topped up, as liquids shrink when cold (except for water when frozen).

Ask your mechanic to check the level and condition of the engine coolant. Mechanics use a coolant tester (hydrometer) like in the photo to measure the freeze point of coolant. Any problems with the cooling system need to be addressed before winter.

If your air conditioner doesn't work, you might want to fix it. Why do you need an air conditioner in winter? When you turn the windshield defogging mode, the air conditioner turns on automatically to keep the air dry. If the air is moist, the windows will keep fogging up.
Consider installing good-quality winter tires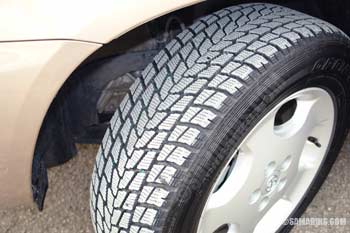 Consider installing good-quality winter tires.
Winter tires are specifically designed to improve traction on snowy or icy roads. If you don't have enough space to store your all-season tires, many dealerships and auto repair shops can store your tires for a fee. Consider getting winter tires as a set with steel rims, especially if you have alloy rims. Alloy rims are easy to damage when sliding into a curb and they are expensive. Swapping the tires only (off-rims) will cause the tire sealing edges (called beads) to wear faster and the off-rims tire swap costs more. There are less labor charges in swapping winter tires on-rims.

Winter tires need to be installed on all four wheels. Don't skimp on safety. Winter tires have better traction on winter roads, but that doesn't mean they are accident proof. For example, they won't help much when braking on clean wet ice. Drive carefully in winter conditions. Winter tires tend to wear faster on dry roads in warm weather; don't forget to remove them when the winter season is over.
Winter car care tips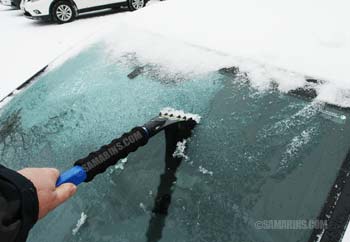 Clean the windows before driving.
Clean the windows before driving. Opening a frozen power window can cause the window glass to separate from the power window mechanism. Here is the trick to prevent this problem: Just tap the window switch lightly first to see if the window is not frozen.

For the same reason, if your minivan has power sliding doors, don't operate them from the button if they are frozen, the power door motor can be fried; try opening them manually first.

After washing the car in cold weather, wipe off the door seals, as they can freeze. Open the frozen doors gently so as not to tear the door seals.
Adjust your driving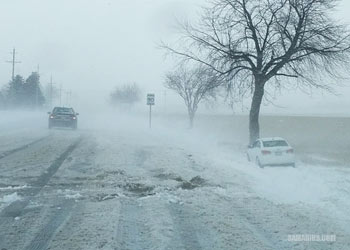 Winter weather is unpredictable.
Winter road conditions are unpredictable, and you need to adjust your driving habits. Don't forget that if you have a 4WD vehicle, it accelerates better in slippery conditions, but its braking ability is pretty much the same as of any other vehicle.

See this video from Consumer Reports on winter driving. Here are a couple more links:
Checklist and Tips for Safe Winter Driving - the NHTSA brochure.
Winter Driving - download a brochure from Transport Canada.
---
You might also be interested: