How to prepare your car for winter
Updated: August 26, 2017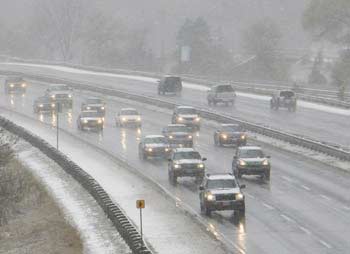 Winter is hard on your car. Any issues your car may have will get worse during a cold season. An old battery, engine oil that hasn't been changed for a while, worn out spark plugs are the examples of what could cause troubles on a cold morning. Winter driving is very demanding and things like bad tires, worn out wipers or inoperative rear window defogger can compromise your safety. Here are few tips how to prepare your car for winter.
Pre-winter maintenance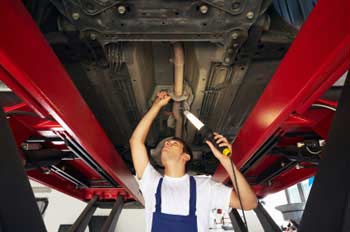 Have your oil change done before winter; fresh oil will make your car easier to start. Many dealers and repair shops offer pre-winter maintenance packages that include checking your cooling system, battery, wipers, tires, etc. Book an appointment ahead of time as many shops can be fully booked up during the tire swap season.
Winter Tires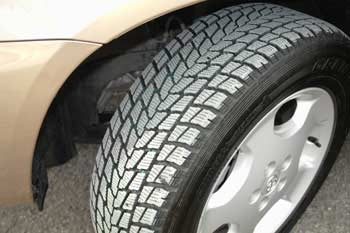 Although winter tires are not foolproof, they are proven to be a safer choice for winter driving. To be effective, winter tires need to be installed on all 4 wheels. If you have no place to store your summer tires, many car dealers and repair shops offer tire storage services ($50-130 per set, per season). If your vehicle has alloy wheels, it makes more sense to get winter tires on steel rims, as the alloys can be damaged when hitting a curb.
Don't wait until the first snow storm, as dealerships and repair shops will probably be fully booked in the "tire season".
Battery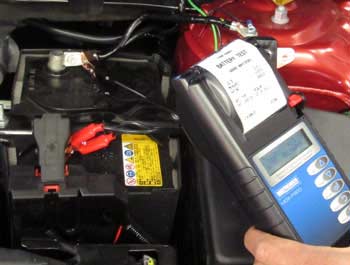 Your battery has to be in top shape to turn over your frozen engine on a cold morning. If it is more than 3 years old, have it tested. A battery test costs from $25 to $50. Some dealers and repair shops offer a free battery test with a regular oil change in a pre-winter season. Symptoms of a weak battery include slow cranking and dome light getting dim while starting the car.
Check battery terminals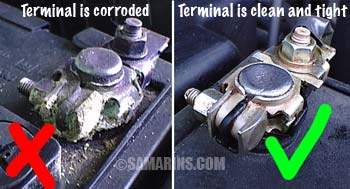 Ask your mechanic to check battery terminals; corrosion at the terminals will cause problems. If they are corroded, have them serviced. Battery terminal service costs from $25 to $50. It includes cleaning the terminals and battery posts and lubricating them with a protective grease or spray.
Switch to winterized windshield washer fluid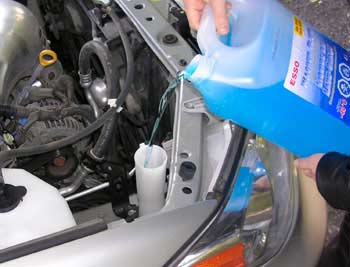 Fill up your windshield washer fluid container with winterized washer fluid that won't freeze in the cold. Have a spare bottle in the trunk, you will use a lot more windshield washer fluid during winter.
Change your wipers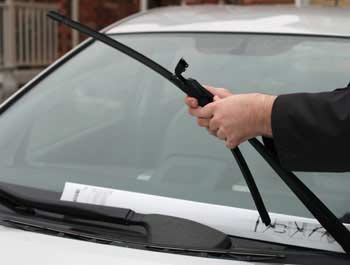 Visibility is always a problem during winter and worn out wipers will make it worse. Change your wipers if you haven't replaced them in a while. Wipers don't last more than one year. Consider installing winter wipers; they are designed to work better in below-freezing temperatures. A set of winter wipers cost from $25 to $65.
Winter driving tip: Before driving off in your snow-covered car, always clean all windows and the windshield. Don't turn on the wipers right away, check first if they are not frozen to the windshield. The wiper motor can be fried if you turn your wipers ON while the wiper blades are frozen to the windshield.
Install winter floor mats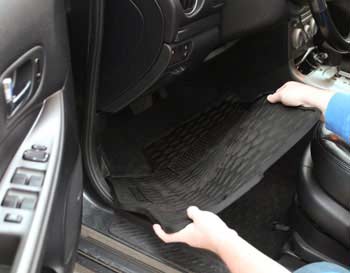 Winter floor mats can prevent moisture from getting under the carpet, where it can cause corrosion in electric wiring. The best option is to buy the OEM floor mats from your dealer; they are more expensive, but will fit better. When installing, make sure the mats are secured properly in place and won't slide under pedals. A set of good winter floor mats will serve you for many years. When installing winter mats, remove original floor mats as only one set of floor mats can be installed.
How to prevent door seals from freezing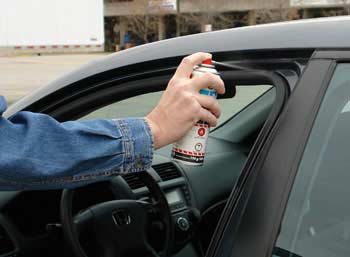 In some cars, rubber door seals may get frozen to the door. There are special sprays available to protect the rubber seals from sticking. In this case, we used the spray from Würth called "Rubber Care." If you cannot find anything like this in the store, call your dealership parts department. It might also be called "weatherstrip lubricant."
Lubricate door locks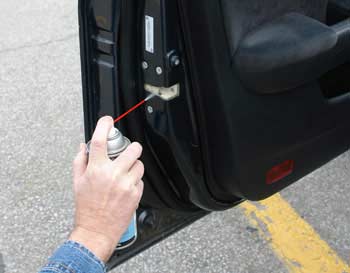 Ask your mechanic to spray door and trunk locks, so they won't freeze. If you have a minivan with sliding doors, the door rails and the locking mechanisms also need to be cleaned and lubricated.
Winter emergency kit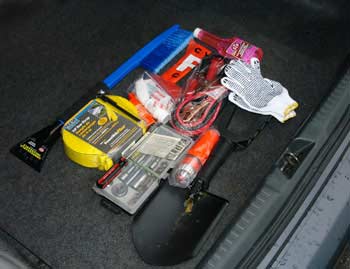 Winter weather is unpredictable and you need to be prepared for any situation. Here are some items you should consider keeping in your car: a basic tool kit, ice scraper, shovel, sand or kitty litter, tow cable or chain, traction mats, road flares or warning light, an emergency sign, a flashlight, booster cables, extra windshield washer fluid, first aid kit, cell phone charger, emergency food pack, bottle of water, warm clothing and footwear for each passenger, a warm blanket for each passenger, matches in a waterproof container, reflective vest.
Adjust your driving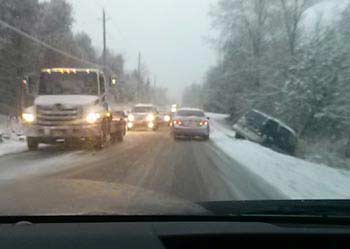 Winter road conditions are unpredictable and you need to adjust your driving habits.

Don't forget that if you have a 4WD vehicle, it accelerates and handles better in slippery conditions, but its braking ability is pretty much the same as of any other vehicle.

Check more winter driving tips that you can find at your Automobile Association or Transport Safety Authority websites. Here's a couple of links:
Checklist and Tips for Safe Winter Driving - the NHTSA brochure.
Winter Driving - download a brochure from Transport Canada.