Owner's and Service manuals for your car
Your vehicle's Owner's Manual is the best source of useful information about your car. Even if you already keep a printed owner's manual in your glove box, it's a good idea to download an electronic version because it allows you to find the information faster.
We receive many questions where to find the owner's manual for a specific model. We've done some research for you and here we have included few links where you can find an owner's manual for your car online:
My Acura - register to download an owner's manual.
BMW USA - follow tab 'OWNERS' » 'OWNERS MANUAL'
My Chrysler: Official Chrysler Owners website - download Chrysler owner's manual for recent models.
My Dodge - download Dodge owner's manual for recent models.
Ford Fleet - download an owner's manual. Ford owner's manuals are usually very thorough with many illustrations.
General Motors Owner Center - Once registered, you can get access to various information including maintenance tips, warranty information and an owner's manual for your GM vehicle, including Chevrolet, Buick, Cadillac, GMC, Hummer, Pontiac, Saturn and Saab.
Honda Owners Honda / Acura maintenance tips, recalls, maintenance schedule, access to electronic owner manuals (follow 'Vehicle Information'). As we checked, some links in owner manuals don't work in some browsers, like Firefox or Chrome, but work in Internet Explorer.
Hyundai - follow menu » OWNERS » My Hyundai. Register for digital owner's manual, warranty & more.
Official Infiniti website - follow the link 'OWNERSHIP' Owner's Manuals available for download
Mazda USA Download owner's manual, maintenance schedule, references.
Mazda Canada - follow the tab 'Parts and Service' » 'Owners'
Nissan Owners - Manuals and Guides - download an owner's manual for your Nissan.
Subaru of America - follow menu 'For Owners' » My Subaru (registration required).
Toyota Owners (Toyota USA) - Owner's Manuals as well as Warranty and Maintenance Guides.
Volvo USA Site - follow 'Your Volvo' link. Owner's Manuals, Service and maintenance information Warranty information and more.

Note: these sites offer the manuals for the vehicles sold in North-America. If you are looking for a manual for a car originally sold in other markets, check your local manufacturer's website, as the same models vary in details in different markets.

What information you can find in owner's manual:
The owner's manual contains most of the information you need about your car driving and maintenance. If you want to know how to install a child seat properly or how to reset the 'Maintenance Required' light or what the warning lights on the instrument panel mean, or when to shift the transmission and how to jump start a car, it's all there. How to check engine oil, how to change the bulb, or how to use an overdrive when towing a trailer, or how to change the tire and where is the jack located - your owner's manual has the answers. Here are few highlights of the information that can be found in your owner's manual: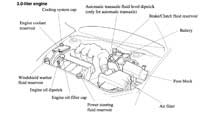 Engine Compartment overview. Want to know where the engine oil dipstick and the transmission fluid dipstick are located? Your owner's manual has a diagram explaining maintenance items under the hood of your car.
Engine oil Capacity and type. You can find the oil capacity and the recommended type under: Specifications > Capacities section.
Once you downloaded the manual, just type: CTRL+F (Command+F for Mac) to open the search box and type: 'Capacities' or 'Engine oil'.
Transmission fluid type. Many modern cars require a very specific type of transmission fluid. Using the wrong type of the fluid can cause problems. The owner's manual describes how to check the transmission fluid level and what type of fluid to use.
Maintenance Schedule Your owner's manual has a maintenance schedule, where you can find how often to change engine oil, transmission fluid and perform other maintenance tasks. You also can check if your car has a timing belt and when it has to be replaced.
Service and Repair manuals
Most of car manufacturers offer a paid subscription-based access to their service manuals. Many offer a 1- or 3-day access for a small fee ($20-$75).
BMW Technical Information System
GM Tech Info
Honda Independent Repair Website - available subscription terms: 1 day, 30 days, 365 days.
Nissan Publications
Mazda Service Info
Porsche Integrated Workshop Information System - prices in EUR
Subaru Technical Information System
Toyota Technical information system
Volvo Technical and Owner bookstore
HelmInc.com - Ford, Honda / Acura Service manuals online, CD/DVD service manuals for many brands.
These two websites offer monthly and yearly subscriptions to service manuals adopted for DIY use:
ALLDATAdiy - paid online access to TSBs and DIY service manuals for many brands
Mitchell1DIY - paid online access. TSBs and DIY service manuals.

AutoZone - some free repair guides and technical information is available for registered users. Follow the menu 'Repair Help' then select 'Vehicle Repair Guide'. If you want to find the information on testing of various engine and emission control sensors, follow the menu 'Engine Performance & Emission Controls'

You might also be interested: