How to find an owner's or service manual for your car online
Updated: December 09, 2019
The owner's manual comes with a car and provides basic info on car features and maintenance. A service or repair manual provides detailed technical information and repair instructions for mechanics and do-it-yourselfers. Scroll down for service manual links.

Owner's manuals
Many car manufacturers post owner's manuals online, so you can download it in a pdf format to your phone and find what you need quick. First, download the manual. In your phone. tap the search icon and enter the keyword.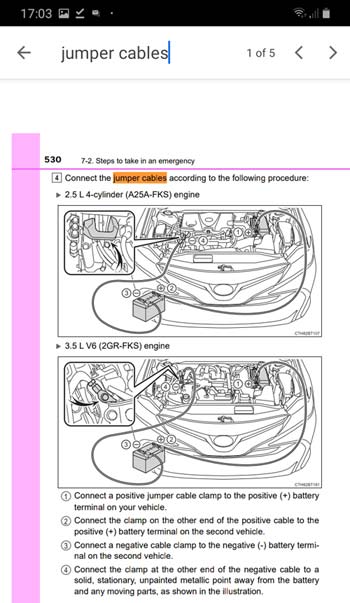 To find the information fast, download the manual. In your phone tap the search icon and enter the keyword (e.g. "jumper cables")
For example, search for "jumper cables" to find the info about jump-starting the car, or look for "warning lights" to see descriptions of various dash lights.

What can you find in an owner's manual:

1. How to boost (jump-start) the car if the battery is dead (see the screenshot).
2. What do the warning lights mean on the dash?
3. How to secure a child seat as well as the information about proper use of safety features.
4. How to use safety features like Lane Departure Warning, Blind Spot Monitor, etc.
5. How to change wipers or bulbs.
6. How to reset Maintenance Reminder.
7. Maintenance schedule. Some manufacturers publish the maintenance schedule in a separate brochure or post online.
8. How to check the engine oil, top up windshield washer fluid.
9. How to open and start a car if the battery is dead in the key fob
10. Specifications: the amount and type of engine oil your car takes, transmission fluid type, etc.

If you need a factory service manual with repair instructions, we posted several links below, scroll down to the bottom of the page.
Acura Owners Register to download an owner's manual.
BMW USA Follow tab 'OWNERS' » 'OWNERS MANUAL'
Chrysler - Mopar Owner's manuals for Chrysler vehicles: Chrysler, Dodge, Fiat, Jeep Ram.
Ford Owner Home Owner's manuals, warranty guides, scheduled maintenance.
General Motors Owner Information Scroll down for owner's manuals for Chevrolet, GMC, Pontiac, Saturn, Buick, Cadillac, Hummer and Oldsmobile.
Honda Owners Manuals, Bluetooth pairing, video guides, retrieve radio code, check for recalls.
Hyundai Resources Manuals & Warranties Resources.
Infiniti Owner Portal See: Owner Resources > Manuals and guides
Mazda USA Owners Manuals and other resources.
Nissan Owners - Manuals and Guides Nissan vehicle manuals and guides.
Subaru of America Vehicle resources.
Toyota Owners (Toyota USA) Owner's Manuals as well as Warranty and Maintenance Guides.
Volvo USA Site Follow: Menu > Owner

Note: these sites offer manuals for vehicles sold in North America. For other markets, check your local manufacturer's website, as the same car models vary in details in different markets.
Service and Repair manuals
Most of the car manufacturers offer a paid subscription-based access to their service manuals. Many offer a 1- or 3-day access for a small fee ($20-$75).
BMW Technical Information System
ACDelco Technical Delivery System is General Motors' service information
Honda Independent Repair Website - available subscription terms: 1 day, 30 days, 365 days.
Nissan Publications
Mazda Service Info
Subaru Technical Information System
Toyota Technical information system
Volvo Technical and Owner bookstore
HelmInc.com Ford, Honda / Acura Service manuals online, CD/DVD service manuals for many brands.
These two websites offer monthly and yearly subscriptions to service manuals adopted for DIY use:
ALLDATAdiy Paid online access to TSBs and DIY service manuals for many brands
Mitchell1DIY Paid online access. TSBs and DIY service manuals.

AutoZone - some free repair guides and technical information is available for registered users. Follow the menu 'Repair Help' then select 'Vehicle Repair Guide'. If you want to find the information on testing of various sensors, follow the menu 'Engine Performance & Emission Controls'
---
You might also be interested: