Serpentine belt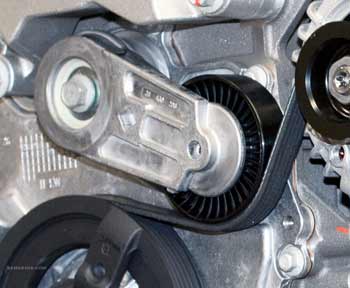 Chevrolet Ecotec engine automatic drive belt tensioner.
It's not necessary to replace a belt tensioner whenever a serpentine belt is replaced. A belt tensioner must be replaced only if it's failed. For example, a tensioner could be seized or the tensioner bearing could be noisy.

Sometimes a seized belt tensioner may even cause the serpentine belt to slip out. A failed hydraulic belt tensioner often produces a rattling noise. If you suspect that your drive belt tensioner has failed, your mechanic can check if the tensioner works properly. In most cases, a belt tensioner is fairly easy to replace and not very expensive.
What can cause a serpentine belt to wear prematurely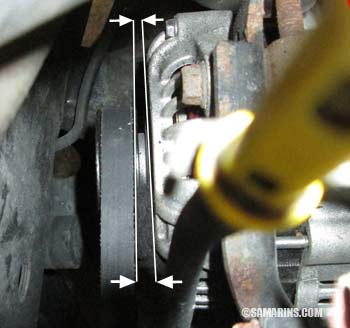 Misaligned alternator
A number of factors can cause a serpentine belt to wear prematurely. For example, in this car, in the photo, a serpentine belt needed to be replaced every three months. Upon closer inspection, we found that the alternator was installed improperly, under angle. Click on the photo to see the larger image. This caused the alternator pulley to be misaligned with the belt, so the belt was wearing out faster.

A damaged or missing engine undershield can also cause a serpentine belt to wear faster. An undershield protects the belt from dirt, sand and water. If the undershield is missing, water and small rocks can get under the belt and damage it. Improper tension, oil and coolant leaks can also cause a serpentine belt to wear faster.
How easy is it to replace a serpentine belt DIY?
On the scale from 1 (easy) to 10 (leave it to pros) the serpentine belt replacement can be rated from 4 to 7 depending on a car. To replace a serpentine belt, you will need the belt diagram that shows the routing for your make and model. For same cars, the routing is shown in the owner's manual. Mechanics often simply draw the routing diagram before removing the old belt.

In many front-wheel drive cars with a transversely-mounted engine, the space between the engine and the frame is very limited. To gain access to the serpentine belt, you might have to jack up the car, take the front wheel out and remove the engine side cover. In some cars it's easy to release the tensioner; in others it might be very tricky. In many cases a special tool is needed to release the belt tensioner.

Often, when replacing a belt, you might find out that the tensioner is seized or the belt that you got doesn't fit, so be prepared to visit your parts store again. All in all, we would recommend getting the quote from a local repair shop or your dealer first. If you think it's still worth a try, start by finding the correct repair procedure with pictures or a how-to video that explains how to do it for your car make and model. We posted several links at the bottom of this article, where you can get a subscription-based access to a factory service manual.


You might also be interested: