How to spot and what to look for when buying a used car that was a rental?
Updated: September 27, 2019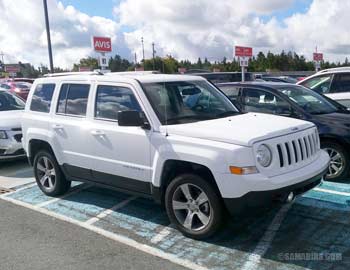 Rental car.
Many one or two year old used cars that are sold on the market come from car rental companies. Should they be avoided? No, If the car is in good condition, and you know that it was a rental, you can save quite a bit of money. Ex-rental cars are usually cheaper. For example, our friend Al found a one-year old ex-rental base-model Mazda 3 with only 12,000 miles. The price was in the range of a three-year old car. He had it inspected and bought it with no add-ons. One year later, he is happy with the car; it still runs like new.

The problem is that some dealers disclose this information, and some don't. A history report may indicate "fleet use", but it doesn't always mean that it was a rental car. How can you find this out? It's not always possible, but there are a few signs that should raise your suspicion.


Some rental companies place a barcode sticker somewhere on the driver's window or on the windshield, like in this photo. We have seen used cars on dealer's lots with a barcode sticker still attached.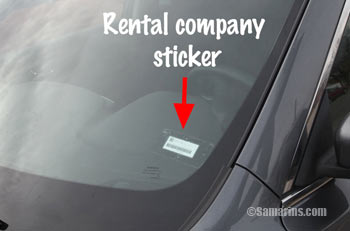 Some car rental companies attach a barcode sticker to the windshield.
Even if it has been removed, you might still be able to see the spot.

Some rental companies place a company logo sticker somewhere on the door or the rear bumper. When the sticker is removed, the outline might still be visible. This will help identify cars that came from one of the ride sharing services. In our observation, those cars are often more abused than cars from reputable car rental companies.

Often, car dealers buy cars from rental companies in batches. You might see several one or two year old used cars with similar mileage on the dealer's lot. The mileage is usually higher than average. Another giveaway is that ex-rental cars are unlikely to have any dealer-installed accessories such as a rust module, mud guards, all-weather floor mats, cargo tray, nitrogen in tires, VIN etching, hood protection, etc. Rental car companies prefer cheaper base models. A car might even have steel rims with no wheel locks.

Here is another pointer: some car rental companies place a "No Smoke" sticker somewhere on the dash or on the ashtray. This car in the photo is a rental car. Again, the sticker might have been removed, but you might notice the round print.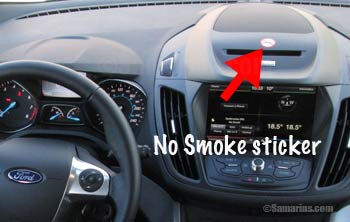 "No Smoke" sticker is a giveaway of a fleet or rental use.
We have also seen things like a rental company employee business card left in the sunvisor, or an old insurance slip with the rental company name or old rental invoice in the owner's manual pouch in the glove box.

If you are in the market for a one or two year old car, consider buying directly from a rental company. Sometimes you can find crazy deals. A few years back our friend Alex bought a one-year-old Toyota Yaris directly from a local car rental business for almost half the price of a new car.

Car rental companies like Enterprise or Avis sell cars directly. Reputable rental companies may even have maintenance records for the vehicle. As long as you can arrange for a thorough independent used car inspection, we don't see a reason to overlook ex-rental cars. The purpose of the inspection is to confirm that there are no accident repairs, the car is in sound mechanical condition and that the oil changes were done on time.

Aren't ex-rental cars more likely to be driven hard? Yes, but this is true for any used car. We rented cars many times and never drove them harder than any other car. Many people do the same.
What to look for when checking a used car that was rental?
First, you may want to verify the details on the warranty coverage. Will it be in anyway affected by the rental use?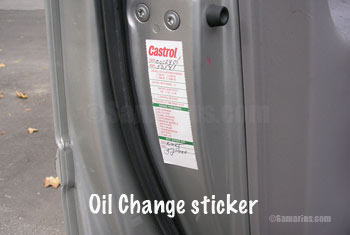 An oil change sticker may shed some light on the maintenance history.
The factory warranty coverage starts from the "in-service" date. The dealer should be able to confirm all that.

Second, you want to avoid cars that have not been maintained regularly. We have seen cars with over 15,000-20,000 miles that hadn't had one oil change done since new. Check the condition of the tires. If tires have never been rotated, tires on the drive axle will have more wear.

When having the vehicle inspected, ask a mechanic if he or she thinks that oil changes were done regularly. A mechanic might be able to tell by checking the condition of the engine oil and the oil filter. An oil change sticker can help too. Read also: How to check an engine when buying a used car.

Third, check carefully for signs of collision repair.
A used car history report will not show anything if the accident was not reported. Look for signs of a fresh paint job. If you look closely, it's often visible. Read more: How to spot signs of accident repair? A mechanic may be able to recognise signs of collision repair during a pre-purchase inspection.

Fourth, during the test drive, watch out for anything that might indicate excessive wear of the engine or transmission. For example, a worn-out transmission may engage with a delay or hesitate or shudder on gradual acceleration. Read more: How to inspect a used car - illustrated guide.

Fifth, check if the car has two sets of keys, spare tire, jack, wheel wrench and the owner's manual.
---