Is it OK to buy a used car that was a rental?
November 3, 2018
Many cars that are sold on the used car market come from rental companies. Most of the time, it will be a 1-2 year old base- or mid-level model, often with higher than average mileage. Brands like Chevy, Hyundai, Ford, Nissan and Toyota are more common, but other major brands are also represented.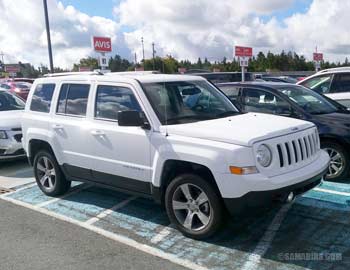 If you are in the market for a 1-2 year old car, you might be able to find a good deal directly from a car rental company
You might even see an odd luxury car that came from a rental fleet. Some dealers disclose that it was a rental; some don't.

We have seen ex-rental cars in like-new condition, others were banged up, had cigarette burns or other damage or showed signs of neglected maintenance. Often you will see the front tires are almost worn out, while the rear tires are still like new due to lack of tire rotations. Cars that came from ride-sharing companies are often in worse shape than others.

Should ex-rental cars be avoided or can buyers benefit from a lower price? Let's consider the price first. A previous rental use lowers the value of the car. If you can confirm that the car was a rental from a history report or by other means, you can use this to negotiate the price. Many dealers do acknowledge previous rental use and adjust the price to reflect that.

There are also plenty of ex-rental cars for sale that are not advertised as such. A history report may not always show the rental use, as some car rental companies lease their cars.
How can you tell if a car was a daily rental?
It's not always easy, but here are a few signs that might raise your suspicion:
Some rental companies place a bar code sticker somewhere on the driver's window or the windshield. See this photo. We actually saw a few one-year old used cars for sale with the barcode sticker still attached. Even if it's removed, you might see traces of glue. You might also see the outline of the company sticker that was removed on the door or on the trunk lid.

Often, dealers get cars from rental companies in batches, so you might see several 1-2 year old used cars with similar mileage. Another giveaway is that ex-rental cars are unlikely to have any dealer-installed add-ons like a rust module or rustproof, mud guards, all-weather floor mats, cargo trays, nitrogen in tires, aftermarket alarm systems, VIN etching, protective film on the hood, etc.

Some rental companies place a "no smoke" sticker somewhere on the dash or by the ashtray. Again, the sticker might have been removed, but if you look closely, you can still see the round print. Look at this photo, we don't know for sure if it was a no-smoke sticker, but you decide, the car on the right is a rental.

We have also seen a rental company rep business card left in the sun visor, an old insurance slip with the company name in the owners's manual pouch, a rental invoice that fell between the seat and center console and an old fleet key tag attached to the fob.
What to look for when inspecting an ex-rental car?
Regardless if it's an ex-rental or not, you want to avoid cars that have not been maintained regularly. We have seen cars with over 15,000-20,000 miles that never had one oil change done since new. That is not good for the engine.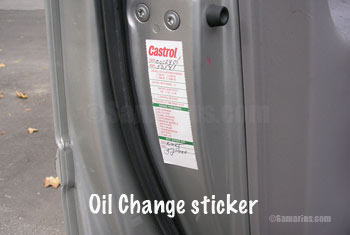 The oil change sticker shows the next recommended date and mileage for an oil change service.
Where can you check for maintenance record? First, if you are buying directly from a rental company, they might have maintenance records available. A history report may also show previous services.

Second, look for an oil change reminder sticker (in the photo). It could be on the driver's door or on the inside of the windshield. An oil change sticker shows the mileage and date for the next oil change. If it shows 16,000 miles, then you know it was probably done at 11,000 miles (if the recommended oil change interval is at 5,000 miles). Synthetic oil lasts longer. Turbo engines are more sensitive to lack of regular oil changes.

Third, when having the vehicle inspected, ask a mechanic if he or she thinks that oil changes have been done regularly. For a mechanic it should be easier to spot signs of neglected maintenance, by the condition of the engine oil, oil filter, etc. Read also How to check an engine when buying a used car.

Is there a way to find out that the car has been driven hard? That is hard to see in any used car. If a car has been abused really bad, its engine might sound louder or the transmission will behave more "loose" or "clunky" or tires on the drive axle might be worn out at lower mileage. Other than that, it's hard to tell. It's a risk you take in any used car, not only in an ex-rental. Of course, a lot depends on the what kind of car it is. If it's a Toyota Corolla who races cars like that?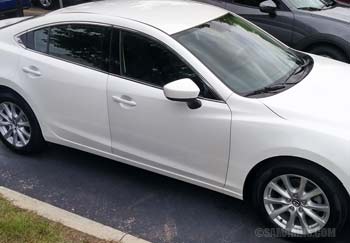 There are a few signs to spot a body repair, mismatched colors is one of them.
What are the signs that a car has been involved in an accident? If the accident has been reported, the history report may show the record. Often, however, accidents, especially minor ones are not reported. Read this guide with photos: How to spot signs of accident repair in a used car. Your mechanic may also spot some body repair signs during the pre-purchase inspection.

Is there any warranty coverage left? One- or two-year old ex-rental cars may still have some warranty coverage. The factory warranty starts from the "in-service" date. It's important to verify details like this.

If you are looking for a 1-2 year old car, you can find a really good deal among ex-rentals. Some rental companies like Enterprise or Avis even sell cars directly. Their prices are often lower than average. As long as you can arrange for an independent used car inspection, we don't see a reason to overlook ex-rental cars. The purpose of the inspection is to confirm the sound mechanical condition and that oil changes were done on time and there is no accidental or other damage.

Our friend Al and his wife were looking to buy a new car that is good on gas, but they didn't want to finance. Al found a one-year old ex-rental base Mazda 3 with only 12,000 miles. He had it inspected by his mechanic and bought it with no add-ons; the car still had two years of factory warranty. The price was right. Now, after one year, he and his wife are very happy with it.