Best used 4-cylinder SUVs
Updated: December 27, 2017
Out of hundreds of available used SUVs on the market there are only a few that are good on gas and rated relatively-well for reliability. We only looked at 2009 and newer 4-cylinder SUVs.
Honda CR-V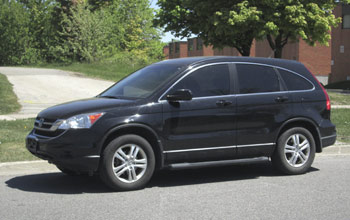 2009 Honda CR-V
The CR-V is one of the best choices. It's not only reliable, but comfortable, roomy and versatile.

The CR-V comes with a proven 2.4L 4-cylinder engine that can last long with good maintenance. The CR-V was redesigned for 2007 and then again for 2012. The 2015-plus Honda CR-V comes with a continuously variable automatic transmission (CVT).

The 2011 all-wheel drive Honda CR-V is rated at 21/27 MPG (11.2/8.7 L/100km) city/highway. Read our Used Honda CR-V 2007-2011 review
Mazda CX-5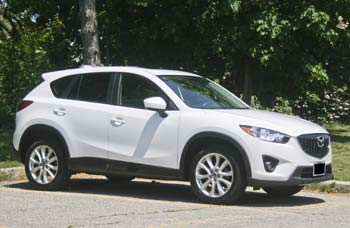 2013 Mazda CX-5
The 2013-2016 Mazda CX-5 comes with a 2.0L or 2.5L direct-injected engine. Both are reliable and very fuel-efficient. Mazda CX-5 comes with a manual or conventional 6-speed automatic transmission.

Mazda CX-5 is one of the few SUVs that offer crisp, sporty handling. The interior is roomy too. The 2015 AWD Mazda CX-5 automatic with a 2.5L engine gets 24 MPG city, 29 MPG highway.
The 2013 CX-5 had several reported minor issues, so look for the 2014 and newer model. Check out our Used Mazda CX-5 2013-2016 review
Toyota RAV4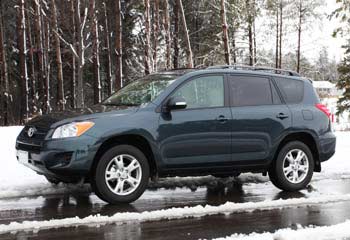 2013 Toyota RAV4
You can't go wrong with Toyota, and the RAV4 is no exception. It's the most reliable SUV in this group.

The RAV4 has been redesigned for 2006, 2013 and 2016. Even a 10-year old RAV4 can be a good buy if you find one that has been well maintained by previous owners.

The RAV4 offers comfortable ride and overall easy driving experience. The EPA rates the 2015 AWD RAV4 with a 2.5L 4-cylinder engine and an automatic transmission at 22/28 MPG city highway. Read our Toyota RAV4 2006-2012 review
2012-plus Chevrolet Equinox / GMC Terrain (4-cyl)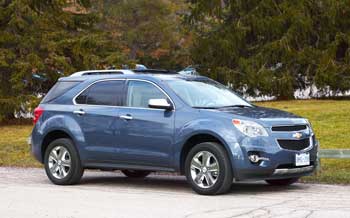 2012 Chevrolet Equinox
If you want to Buy American and save on gas, Chevrolet Equinox and its twin GMC Terrain fit the bill perfectly.

Starting from 2012, both vehicles are rated higher for reliability than any other American SUV. According to Consumer Reports, most complaints are about in-car electronics. The engine and transmission fared well.

The Equinox was redesigned for 2010 and then for 2018. The 2010 and 2011 models had more reported problems. That is why we recommend looking for the 2012 and newer Equinox. The 2010-2017 Equinox has a refined roomy interior and comfortable ride. The 2015 AWD 4-cylinder Equinox auto shows the EPA sticker of 20/28 MPG city/highway. Read the full Chevy Equinox review
Subaru Forester 2013-plus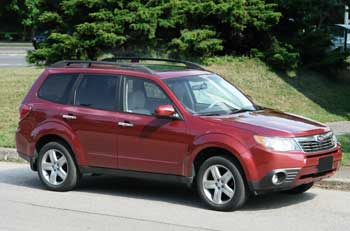 2013 Subaru Forester
Subaru is known for its 4WD prowess and unique boxer horizontally-opposed engine. The Forester takes advantage of both of these features. Thanks to its low center of gravity, the Forester handles well on twisty mountain roads. Its upright shape and tall windows provide excellent all-around visibility.

Redesigned in 2009 and in 2014, the Forester remains one of the top contenders on the used car market. The reliability is better than average, although the 2011 and 2012 models received some flak for excessive oil consumption. We recommend the 2013-plus Forester. The 2014 AWD 2.5L automatic model is rated at 24/31 MPG city/highway. Read our review of the 2009-2013 Subaru Forester
Nissan Rogue 2009-plus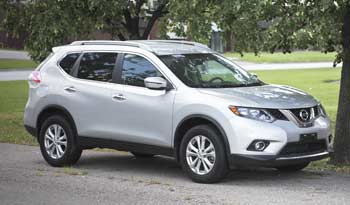 2016 Nissan Rogue
Nissan Rogue has been introduced for 2008. The first generation 2008-2013 is a practical compact SUV. Read our review of the 2008-2013 Nissan Rogue. The 2014-plus Rogue is larger and more refined.

The Rogue comes with a 2.5L 4-cylinder engine and a continuously variable automatic transmission (CVT).

Thanks to the CVT, the Rogue is one of the most fuel efficient SUVs. The 2014 AWD Rogue is rated at 25/31 MPG. The reliability is above average. There were early problems with a CVT transmission, notably in the 2008 model. Later models are rated better.