Used SUVs with 3-rd row seating: our pick
Updated: September 14, 2019
If you want a used SUV with 3-rd row seating, we selected several 7- or 8-passenger vehicles that in our opinion deserve your consideration. We only looked at vehicles with a combined EPA rating of 17 mpg or better. All these are complex vehicles and they won't be completely trouble-free. For this type of vehicle, we would recommend looking into getting a good extended warranty.
2009 and newer Honda Pilot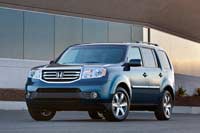 Honda Pilot is a roomy mid-size 8-seater with three rows of seats. It comes with front- or all-wheel drive. The Pilot has a 3.5L V6 engine mated to a 5-speed automatic transmission and offers up to 4,500-pound towing capability (AWD). It's a very practical well-thought-out vehicle. For example, the liftgate glass opens separately. There is some cargo space behind the third row, but not a lot. The 2012-2015 AWD Honda Pilot gets 17/24 mpg or 13.8/9.8 L/100 km.

Acura MDX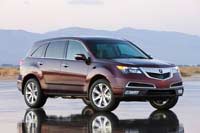 Acura is a luxury brand owned by Honda. Acura MDX is a relative of Honda Pilot. The second-generation MDX is a sporty mid-size 7-passenger SUV with a luxury interior and several high-tech features. The SH-AWD (Super Handling) is standard on all trims. The MDX has a 300-hp V6 engine and a 5-speed (6-speed from 2010) automatic transmission. Overall, it's an upscale sports car in an SUV body. The third row is fairly small and the cargo space behind is limited. The 2009 AWD Acura MDX gets 15/20 mpg on premium gasoline (15.7/11.8 L/100 km). The downside is that service and parts could be expensive.
Mazda CX-9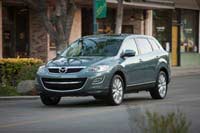 The 2007-2015 Mazda CX-9 has plenty of power and is a pleasure to drive. It holds the road well and is stable on twisty roads. Up to the 2015 model, the CX-9 was equipped with a V6 engine supplied by Ford. We recommend the front-wheel drive CX-9, as the AWD system is a weak spot. The 2009 FWD CX-9 is rated at 16/22 mpg or 14.7/10.7 L/100 km

The second-generation 2016+ CX-9 is a totally different vehicle. The 2016+ Mazda CX-9 comes with a 2.5L 4-cylinder turbocharged Skyactiv engine. The interior is nicely finished and roomy. There is plenty of cargo space with the third-row seats up. The ride is on the firm side, but comfortable. The reliability is not bad, but a turbocharged engine needs to be maintained well to last. The EPA rats the 2017 front-wheel drive Mazda CX-9 at 22/28 mpg or 10.7/8.4 L/100km.
Ford Flex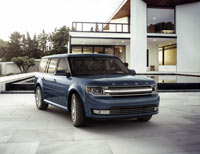 Ford Flex is a car-based crossover with a V6 engine. It comes in a 6- or 7-seat configuration and is very roomy inside. It is available in a front- or all-wheel drive configuration, but we recommend the front-wheel drive version, since the AWD system could be troublesome at higher mileage. For the same reason, a non-turbo Duratec V6 is a better option. The 2015 Flex with a 3.5L Duratec V6 is rated at 18/25 mpg or 13.1/9.4 L/100 km.
Toyota Highlander 2004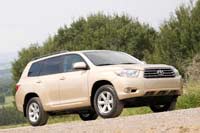 The Highlander is one of the best mid-size SUVs. The first generation offered optional third-row seating from 2004. It was a fairly small comfortable Camry-based SUV. The second generation 2008-2013 Highlander is larger and although it looks more like a truck, it's still a car-based SUV with the soft and very quiet ride. The 2008-2013 Highlander is available as a front-wheel drive or all-wheel drive. The cargo space behind the optional third-row is limited. The liftgate window opens separately. The small middle second-row seat can be easily removed and stowed under the center console. The Highlander is reliable, although there were minor issues with the 2008 and 2009 models. The 2009 AWD V6 Highlander is rated at 17/23 mpg or 13.8/10.2 L/100 km (city/highway). There is a 7-seater Highlander Hybrid, but they are very rare.

Toyota 4Runner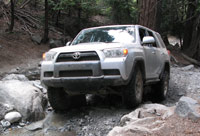 The 4Runner is an old-school body-on-frame truck-based SUV. It's a capable rugged off-roader and is better suited for towing. The third-row seating option has been available since 2004, but was rare. The 2010 and newer 4Runner with the third-row seating is more common. Toyota 4Runner is thirsty, but reliable. The EPA rates the 2010 4WD 4Runner with the 4.0L V6 engine and an automatic transmission at 17/22 mpg city/highway. The 4-cylinder 2.7L engine was available, but most of the 2010-plus 4Runners are equipped with the V6.
Chevrolet Traverse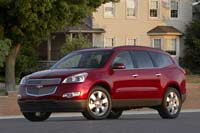 Chevrolet Traverse is a full-size 7- or 8- passenger crossover SUV. It is available with front- or all-wheel drive. The Traverse is very roomy - the third row is good for adults and there is even plenty of cargo space behind the third row. The Traverse rides nicely and handles well for a vehicle of this size. If you need more space, the Traverse is a sensible choice. The 2016 AWD Chevrolet Traverse is rated at 15/22 mpg (15.7/10.7 L/100 km). We looked through common problems, and although there is nothing major, this vehicle won't be trouble free. The 2014, 2016 and 2017 Traverse are rated better for reliability. GMC Acadia, Buick Enclave and Saturn Outlook share the same GM platform.